Weather puts a crimp in Wright's plan to return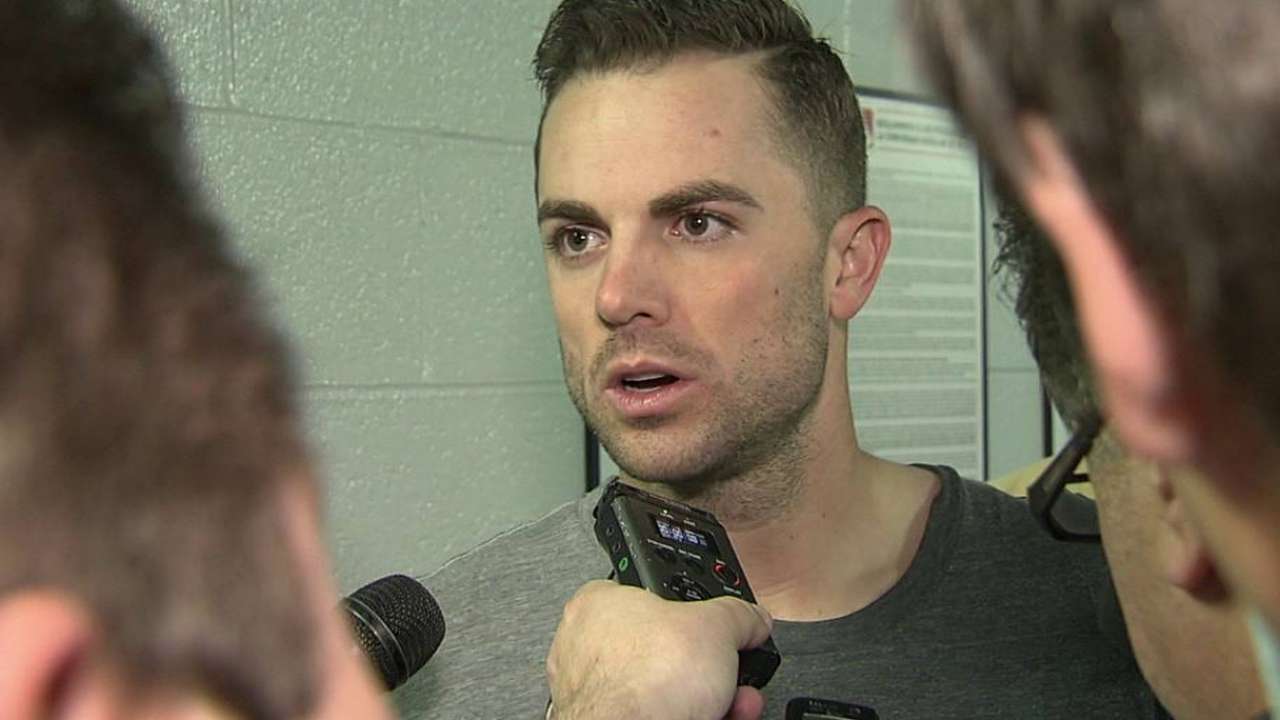 NEW YORK -- There were five fresh, never-used bats lying by David Wright's locker on Friday afternoon, but he wasn't going to get a chance to use them.
Wright, who hasn't played since June 26 while nursing a sore left rotator cuff, was expected to return to action for the opener against the Rangers until inclement weather prohibited him from completing the last step before he could be cleared to play.
The plan had been for him to partake in a full pregame routine -- running, stretching, taking grounders and batting practice -- but the tarp's presence meant that didn't happen.
Now he and the team will shoot for Saturday.
"I'm no doctor, so I'm relying on the people that are to come up with a game plan," Wright said. "It's worlds better than it was. I'm feeling very optimistic about how I've recovered in a relatively short amount of time.
"The last thing to do is what the medical staff is recommending, and that's get on the field, work up a sweat, make sure I can range left and right, and not have to think about it too much when I'm doing it."
Wright did, however, run and throw in the rain, as well as take some swings inside. Saturday's biggest test will come in the field when he takes grounders and throws across the diamond -- the exercises that originally pushed the pain to a point last week where he said something about it.
In the meantime, the Mets on Friday played shorthanded for a seventh straight game. With six outfielders and four infielders on the 25-man roster, they would also be in a bind should one of the infielders get hurt.
"I understand we've got a number of outfielders," general manager Sandy Alderson said. "But what's more important to us is what each player can contribute offensively. So not having that backup infielder gives us a little bit of a [disadvantage]. At the same time, it hasn't really affected us."
Alderson added that should Wright not be able to play on Saturday, the club would need to think about placing him on the disabled list.
"I don't make those decisions. It's something where, obviously, I want to play. I don't wanted to get DLed," Wright said. "If I miss eight days, I feel terrible -- the team hasn't played all that well, and obviously, they're playing a man down, so I feel terrible about that. But I don't make those decisions."
Manager Terry Collins said that although Wright has progressed, he would be hesitant to use him as a pinch-hitter on Friday. Should Wright have to go on the DL, the Mets can backdate the start of the minimum 15 days a maximum of 10 days. Any action on Friday would restart that clock.
Tim Healey is an associate reporter for MLB.com. This story was not subject to the approval of Major League Baseball or its clubs.