Mets get their captain back in the lineup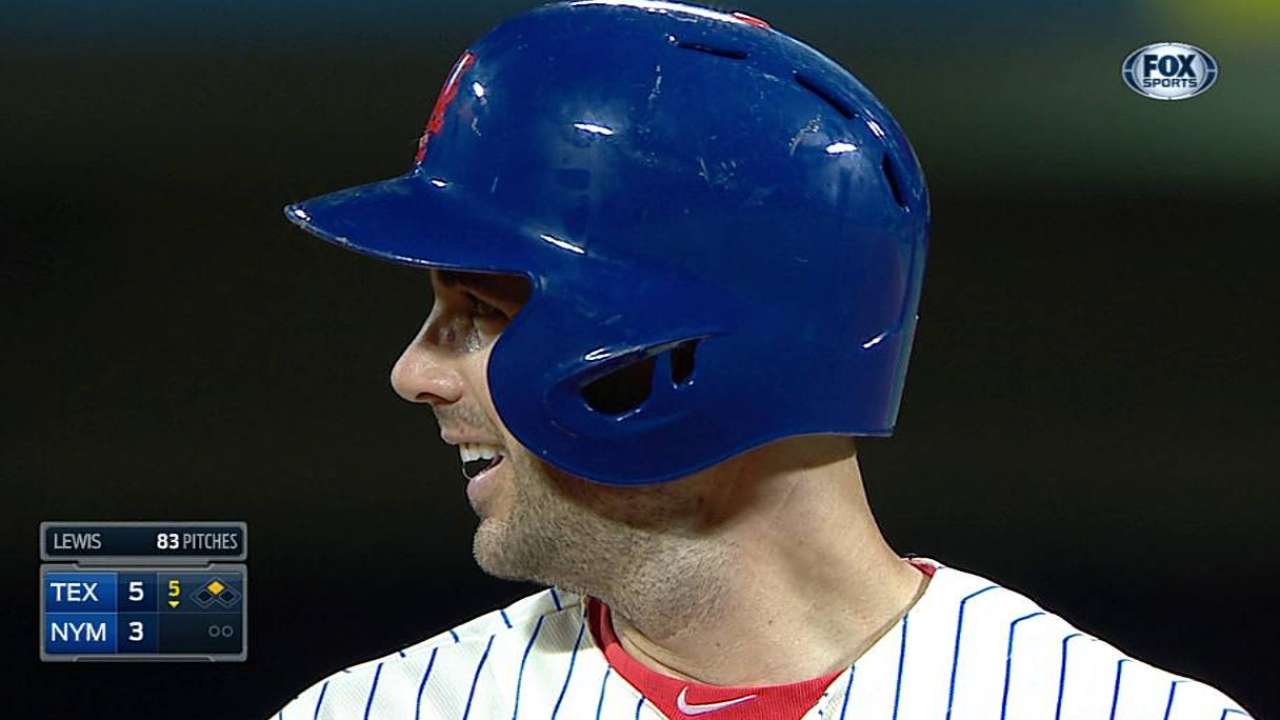 NEW YORK -- Rain prevented David Wright from working out and playing on Friday against the Rangers, but Mother Nature was kinder on Saturday afternoon.
Cycling through a range of ground balls and defensive movements, Wright, after missing seven games, was inserted back into the Mets' lineup, hitting third.
Wright finished 1-4 with a double to left-center, making sure to slide into second feet first, a practice he'll adopt to keep from re-injuring his shoulder.
In the seventh, Carlos Pena robbed him of a hit, diving to his right to snag a one-hop liner.
Wright appeared to have no issues in the field, either, charging on an Adrian Beltre tapper and making a nice off-balance throw to first in the fifth inning.
Wright hadn't played since June 26, rehabbing a sore left rotator cuff that he felt was ready to be tested.
"The only thing I can go by is how I feel," said Wright before the game, "and I feel like I can hit, throw and field, and that's a good feeling considering what it felt like a week ago.
"[I] hit yesterday, threw yesterday, but again -- it's my non-throwing shoulder, so the big thing today was going side to side on ground balls, having to extend yourself. It's still kind of limited as far as game-type speed, but it's the best you can do to simulate it, and it went well."
The Mets decided not to put Wright on the disabled list, which would have kept him out another week. That meant having a shorthanded bench, something Wright knows was a burden for his club.
"I appreciate these guys sticking with me, because as we mentioned yesterday, it's difficult to play in general and then with a man down," said Wright. "It definitely limits the things you can do on a daily basis. But for them to stick with it this week, it's been tough on the guys, tough on the coaching staff. I appreciate the opportunity."
Wright visited with doctors and physical therapists every day over the last week, but manager Terry Collins wanted to make sure his slugger was tested on the field before penciling him back into the three-hole.
"There were some movements I wanted to see, how he felt after certain movements," said Collins. "There's no discomfort, no hesitation, so I feel comfortable that he's in there."
The biggest concern for Wright is avoiding any further aggravation. That means he'll continue to avoid sliding head-first on the bases, like he did on Saturday night.
"You can't think about that, you just do it," he said. "You go out there, you just keep going at game speed, and you just get caught up in doing what you're doing. It's completely different when you're running full speed from first to second, diving, as opposed to one step and dive. So I think that hopefully it won't be an issue."
Collins is hopeful but realizes those kinds of instinctual reactions are parts of the game players can't avoid.
"If you dive and you jam your shoulder, you jam your shoulder," said Collins. "Whether you're just coming off a shoulder that's been bothering you for a week doesn't mean it's not good. You can hurt it again, that's just sports."
Jake Kring-Schreifels is an associate reporter for MLB.com. This story was not subject to the approval of Major League Baseball or its clubs.