Trip to disabled list may be in Niese's future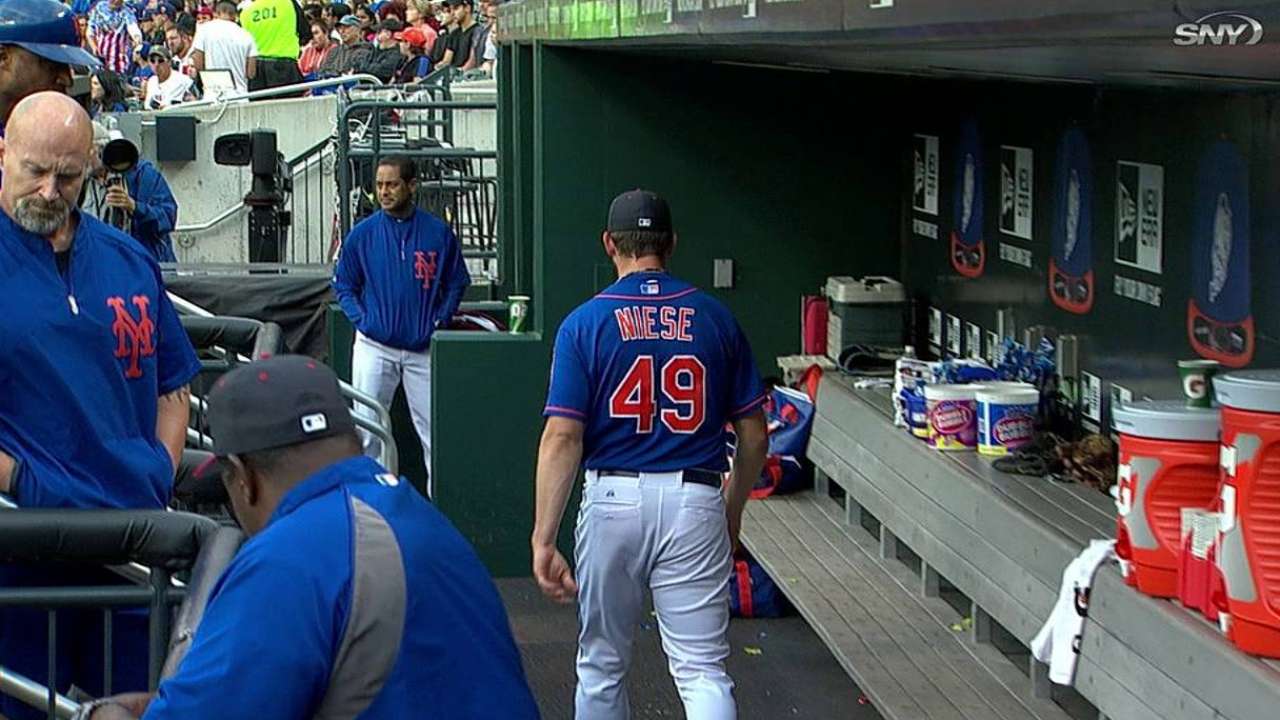 NEW YORK -- Any optimism that left-hander Jon Niese would be making his next regularly scheduled start despite being hit by a liner on Friday has been muted.
The Mets expect to make an announcement on Sunday in regard to possibly placing Niese on the disabled list with a shoulder injury, as first reported by Adam Rubin of ESPN. The Mets have not confirmed the report.
"There's a possibility," said manager Terry Collins when asked about the likelihood of that happening. "We'll make the announcement tomorrow. We're going to wait to see how ... he and Dillon [Gee] are doing tomorrow."
Niese declined to comment after Saturday's game, a 5-3 loss to the Rangers.
Right around the start of Saturday's contest, the Mets announced via Twitter that right-hander Buddy Carlyle was on his way to New York but gave no indication why.
Carlyle has only made two appearances for the Mets this season, the last on June 4 against the Cubs. He has been shaky in his last eight games for Triple-A Las Vegas, allowing four home runs over nine innings.
The news comes after Niese was hit with a line drive in the first inning on Friday and subsequently pulled as a precaution. Niese indicated that he would prefer to move his next start up, as he threw just 12 pitches, and X-rays were negative.
But it now seems possible that Collins knew something more.
"[An accelerated start is] probably not going to happen right now, but that's why I love Jon Niese," said Terry Collins before Saturday's game. "He wants to be out there, and he wants to pitch, and he knows, if we're going to win, he's got to pitch good. I salute him, but we're probably going to be careful of doing too much."
Jake Kring-Schreifels is an associate reporter for MLB.com. This story was not subject to the approval of Major League Baseball or its clubs.