Collins not rushing a decision on Gee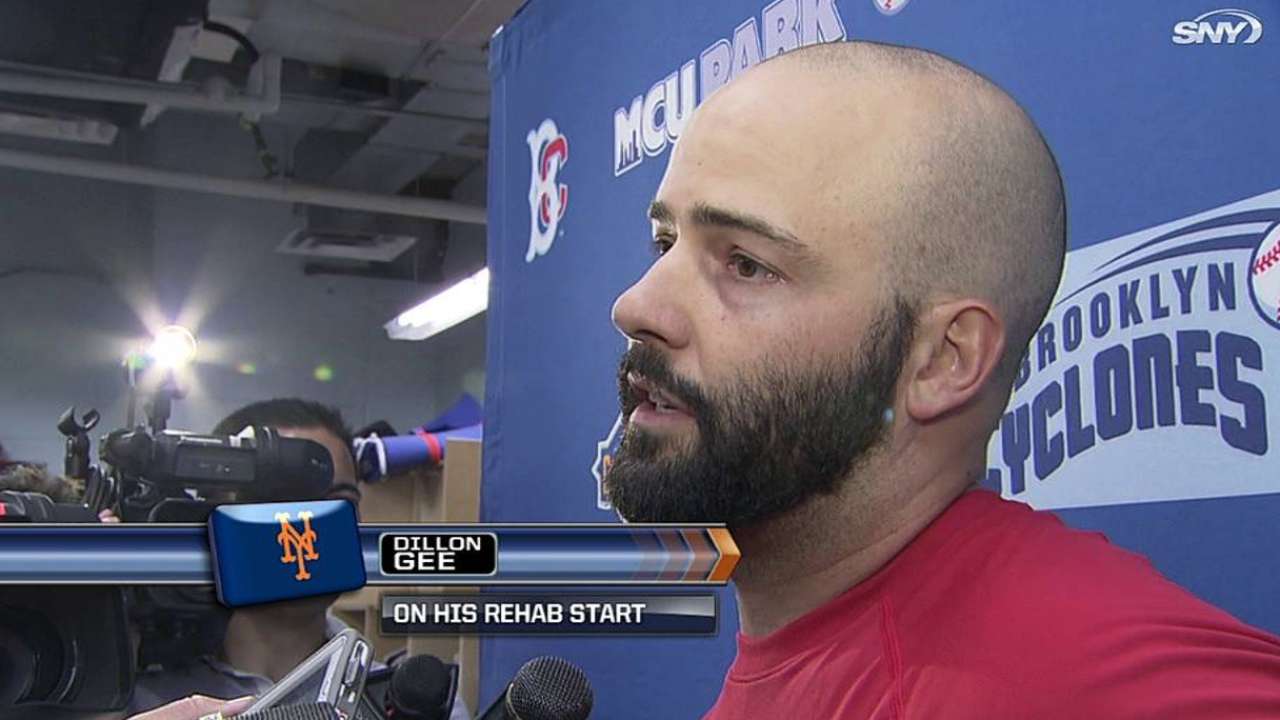 NEW YORK -- Dillon Gee's rehab assignment with Class A Brooklyn on Friday night went very well. The righty tossed 75 pitches in six innings, allowing one run on three hits and striking out 10.
Gee, who hasn't pitched since May 11 because of a strained right lat, may feel ready to come back to the Mets, but manager Terry Collins will take until at least Sunday to determine his return.
"He's going to throw a bullpen tomorrow, and after tomorrow we will make a decision when he's going to pitch again," said Collins.
That could mean that Gee, who hit the disabled list with a 3-1 record and 2.73 ERA, could return before the All-Star break for a start at home unless Collins feels he needs more time.
"You might want him to throw some more," said Collins about waiting until after the break to bring back Gee. "Tomorrow we'll make the decision about when he's going to pitch. He could pitch next week here, it could be trying to get to 100 pitches someplace else."
No matter when Gee returns, the Mets will have to make a corresponding move to make room on the active roster. That may mean optioning fill-in starter Daisuke Matsuzaka back to Triple-A Las Vegas.
"We certainly don't plan on [using Matsuzaka out of the bullpen]," said Collins. "I know this guy will give us what we need to have. He's done it before. He did it in Anaheim when we were short, even though he was getting knocked around. He came in and said, 'I'll give you seven innings tonight,' which is just how he is."
Whomever is chosen, the decision should be difficult, especially if it's a member of the bullpen. Mets relievers have allowed 11 earned runs over the last 59 1/3 innings (1.67 ERA) and rank sixth in the Majors with a 3.12 ERA.
Friday night was no exception, as Carlos Torres, Vic Black, Jeurys Familia and Jenrry Mejia combined for 26 outs when starter Jon Niese had to exit for precautionary reasons after taking a line drive to the back.
Jake Kring-Schreifels is an associate reporter for MLB.com. This story was not subject to the approval of Major League Baseball or its clubs.