Nieuwenhuis, Abreu swinging well, start vs. righty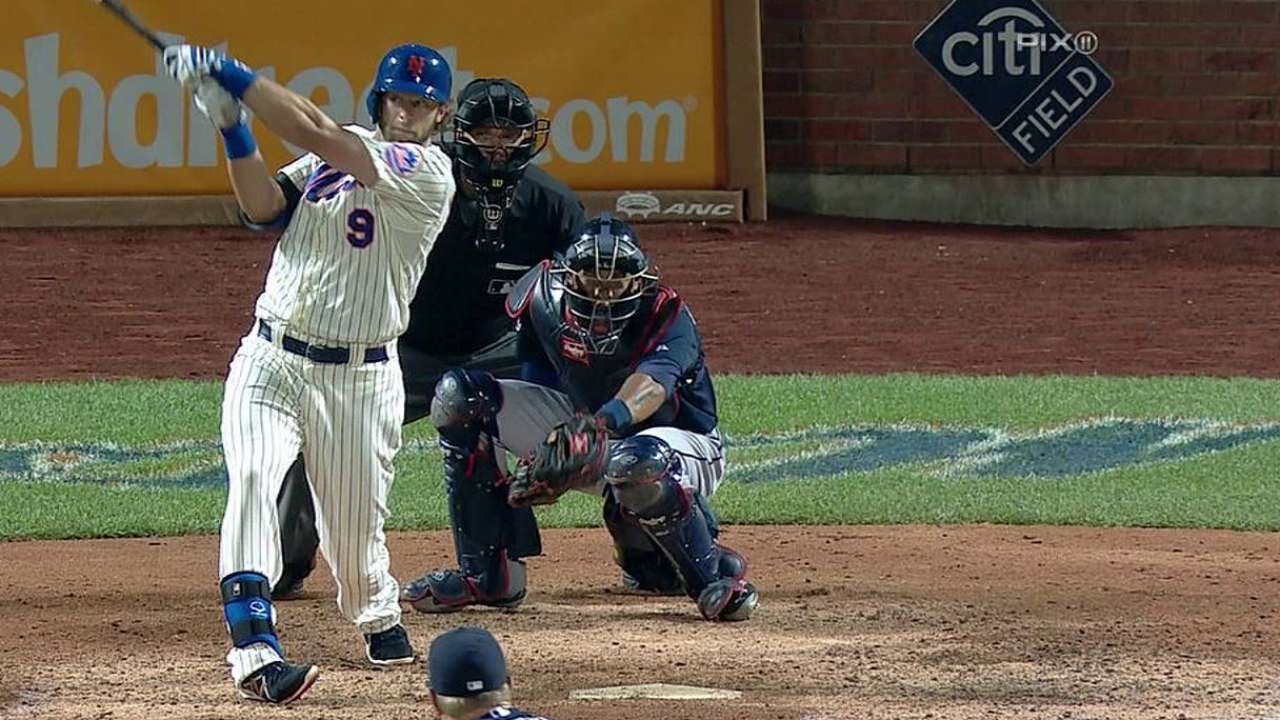 NEW YORK -- The Mets value the offensive flexibility afforded to them by carrying an extra outfielder, and Wednesday against the Braves and right-hander Ervin Santana, manager Terry Collins took advantage of that flexibility. Left-handed hitters Bobby Abreu and Kirk Nieuwenhuis started in left and center field, respectively.
The reason was simple: matchups. Lefties hit Santana far better than righties do, while Abreu and Nieuwenhuis are more effective against righties than lefties.
"Santana has been really tough against us, really tough," Collins said. "We've got two lefties that have been swinging pretty good, so I've got them both in there. So it's helped us out to where you can get them some at-bats now and then to try to keep them sharp. It seems like every time we put Bobby in the lineup, he gets two hits."
This is just Nieuwenhuis' fourth start since the Mets recalled him from Triple-A Las Vegas on June 19, but he has made the most of his role as a pinch-hitter. He is 5-for-13 (.385) as a pinch-hitter, and all but one of those hits are doubles, making for a .692 slugging percentage.
Wednesday was the third time in less than three weeks that Nieuwenhuis found his name on the lineup card a game after doubling as a pinch-hitter. In the first two starts, he went 3-for-7 with five runs scored.
"It really helps to try and not do so much," Nieuwenhuis said of his success off the bench. "I think subconsciously a lot of times as a pinch-hitter, you're trying to do too much, your swing gets big, stuff like that. So you really have to concentrate on doing less."
Nieuwenhuis' presence in center also meant Juan Lagares took a seat for the second time in six days. Lagares has not found as much success in a dozen games since returning from the disabled list (.262/.262/.286) as he did before his intercostal strain (.295/.337/.429), but he does have three multihit games this month.
Collins isn't worried.
"Coming out of Spring Training when you're in great shape, you've had 70 at-bats in Spring Training, that helps you get started," Collins said. "Coming out of the injury, he hasn't even accumulated anywhere close to those at-bats [42] to get himself back. I've seen some good things. He hit the ball hard twice [Tuesday] night to right field."
Tim Healey is an associate reporter for MLB.com. This story was not subject to the approval of Major League Baseball or its clubs.