Mets stick with pitcher batting eighth, even with Colon
With Granderson leading off, Collins likes speedy Young at bottom of order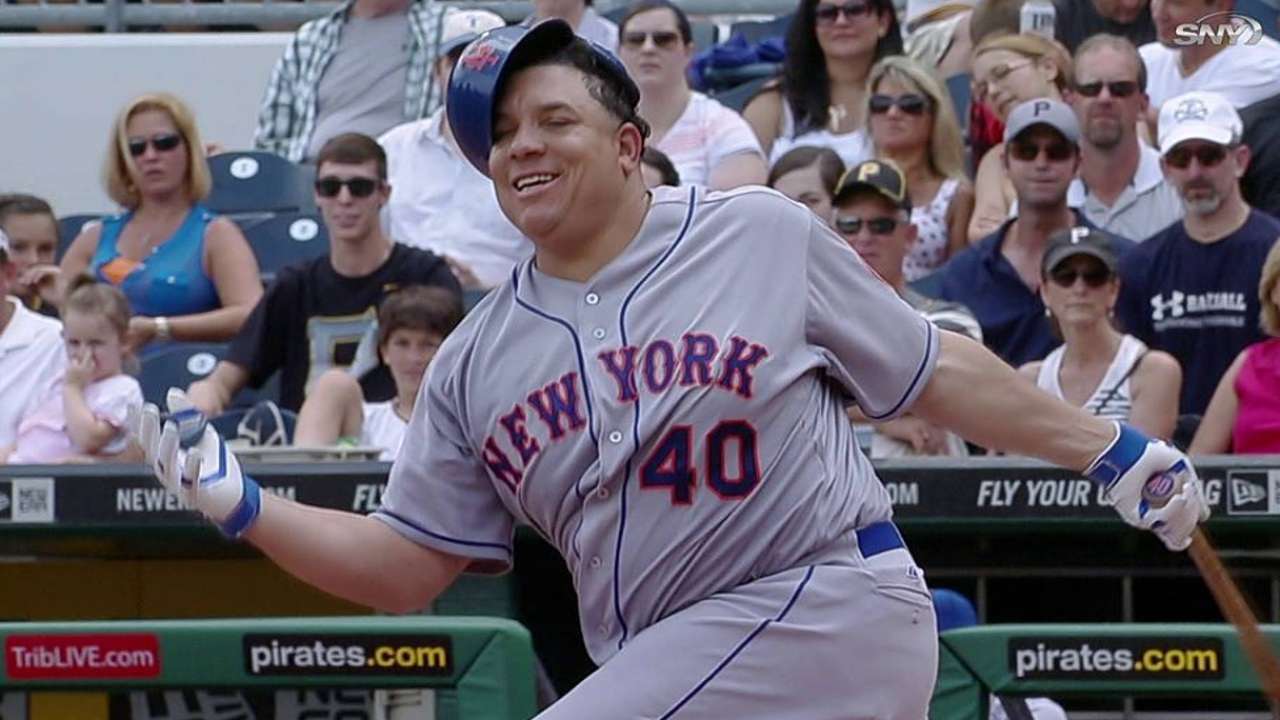 NEW YORK -- Terry Collins insists what he's doing is not "brain surgery or something." But the Mets manager is nonetheless convinced his lineup strategy works -- so convinced, in fact, that he batted the most unorthodox of pitchers eighth for Thursday's series finale against the Braves: Bartolo Colon.
"I hope this is the final time we have to answer this eighth-ninth stuff," Collins said. "Because after the first pitch of the game, it's still the same lineup."
Colon's tribulations at the plate this season have been well-documented, from his flailing swings and misses to his helmet's tendency to fly off during at-bats. The longtime American Leaguer entered Thursday's play with just two hits in 38 plate appearances, though much of his limited offensive production -- including an increased success rate on sacrifice bunts -- has come in the past month.
Still, Colon's debut in the eighth hole Thursday had nothing to do with the pitcher, and everything to do with Curtis Granderson and Eric Young. With Granderson recently cementing himself as the Mets' leadoff hitter, Collins does not believe Young offers much value batting anywhere but ninth, where he essentially becomes a "second leadoff man" ahead of Granderson, Daniel Murphy and David Wright.
"For me, E.Y. either leads off or hits ninth," Collins said.
With that in mind, Collins can stomach Colon's increased chances of coming up in a big spot if it translates into better opportunities for Young to generate rallies.
The rest of Collins' lineup Thursday was conventional, save for catcher Travis d'Arnaud's bump to the No. 5 spot. When asked if the hot-hitting d'Arnaud could stick there, Collins quipped: "That's up to Travis. If he keeps hitting, he'll be hitting third in another couple weeks."
Anthony DiComo is a reporter for MLB.com. Follow him on Twitter @AnthonyDicomo. This story was not subject to the approval of Major League Baseball or its clubs.