First-rounder Conforto hits Big Apple for first time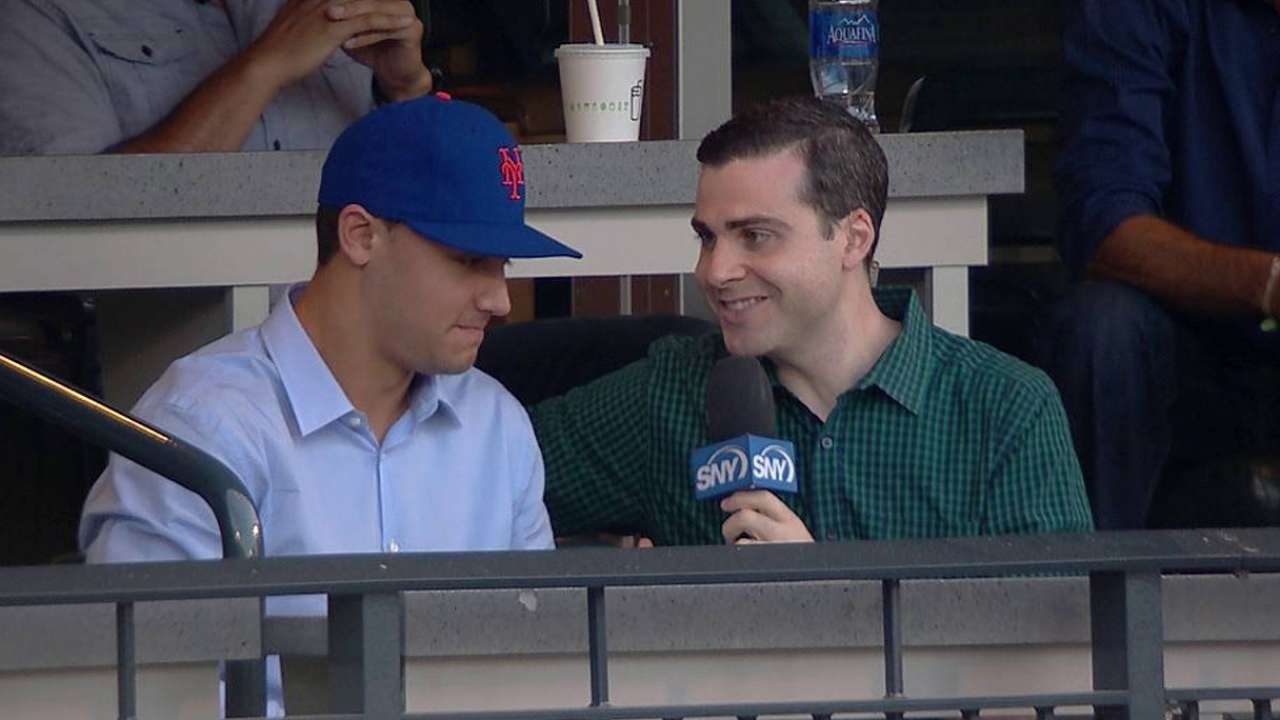 NEW YORK -- Michael Conforto is visiting New York for the first time this week, and between seeing the sights, preparing for life as a professional ballplayer with Class A Brooklyn this summer and meeting some of the Major Leaguers he grew up watching, Conforto learned something pretty important about the Big Apple: The food is good.
"We've been eating a whole lot since we got here," Conforto said Friday afternoon during his introductory news conference at Citi Field, flanked by general manager Sandy Alderson, scouting director Tomy Tanous and agent Scott Boras. "We're Italian, and we've had some really good Italian food. Really good. Usually you can only get that from family back home."
Conforto made the trip to New York to take a physical and finalize his contract after the Mets made him the 10th overall selection in the First-Year Player Draft. MLB.com reported last month Conforto would receive a $2.97 million signing bonus.
The 21-year-old outfielder joined the Major League team for its pregame routine, complete with uniform -- he wore No. 88 -- and a round of batting practice.
As a junior at Oregon State this spring, Conforto his .345 with seven home runs and 56 RBIs in 59 games. He was named one of the five finalists for the Dick Howser Trophy, given annually to the top college player in the country. Conforto was also named the PAC-12 Player of the Year for the second season in a row, and he was the first three-time All-American in school history.
Aside from the accolades, though, Conforto gives the Mets' farm system something it has lacked in recent years: a left-handed hitter with power potential.
"Besides the fact that Michael is an all-around outstanding player from our point of view," said Alderson, "his outstanding on-base approach as well as his left-handed swing and the power potential that he brings [is] sort of a natural fit for our organization in this ballpark as a gap-to-gap-type of hitter. We're extraordinarily pleased to have him."
The sides reportedly initially came to an agreement weeks ago, but it took a while to finalize the deal. Alderson made sure to address that quickly.
"You only need to look at me at this end of the table and Scott Boras at the other end of the table to know that we're probably two of the more stubborn people in the game," Alderson said. "Whatever delay occurred had absolutely nothing to do with Michael."
Conforto will join the Cyclones in Brooklyn for his first taste of pro ball.
Tim Healey is an associate reporter for MLB.com. This story was not subject to the approval of Major League Baseball or its clubs.