Boras encouraged by Harvey's progress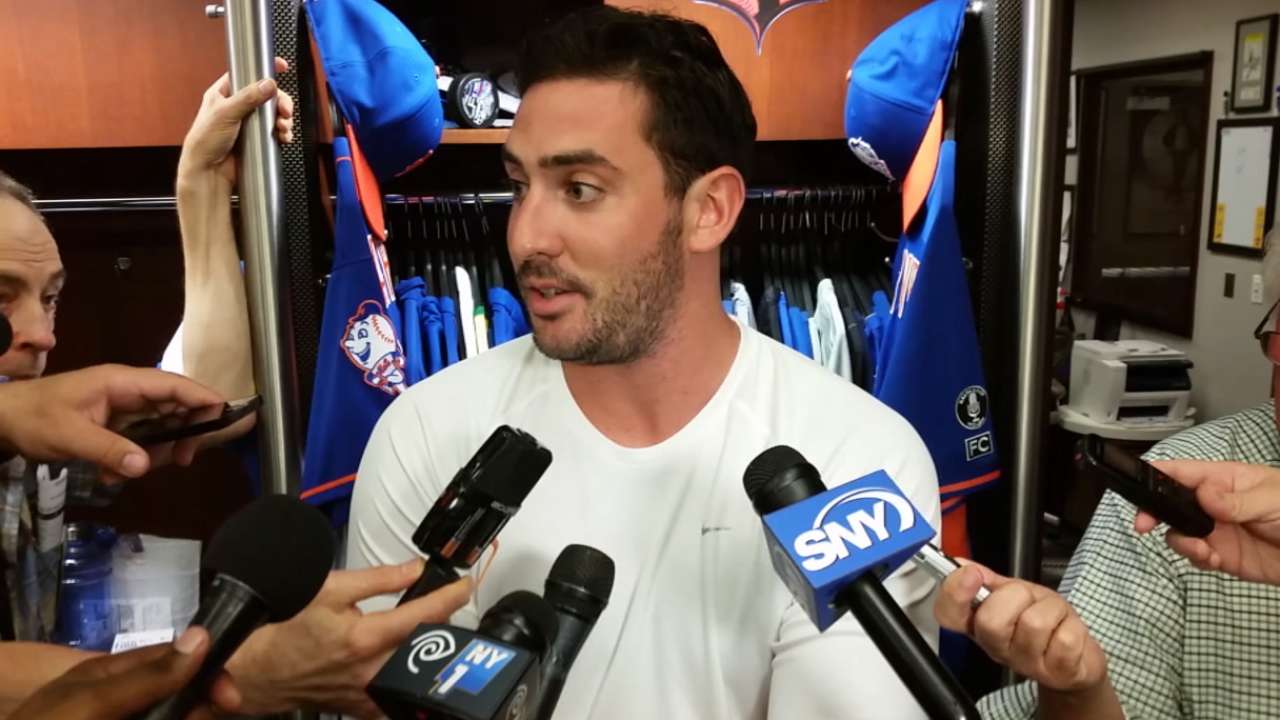 NEW YORK -- As Scott Boras and first-round Draft pick Michael Conforto chatted in front of cameras Friday afternoon, one of Boras' other clients in Queens interrupted the conversation for a big hug.
A chipper Matt Harvey, who is out for the season while recovering from Tommy John surgery, was happy to stumble upon his agent in the Mets' clubhouse. Harvey has indicated on multiple occasions since going under the knife his desire to be aggressive in his rehab, but Boras is just fine with things progressing slowly.
"A competitive athlete is never comfortable with the timeline," Boras said Friday. "I just watched Matt throw. He looks great. His extension, ball's coming out of his hand. It really is exciting to see him at this stage, and I'm really encouraged about what can happen next year.
"I don't want Matt Harvey to ever change. I want him ready to run the race every day. I appreciate that. I also trust that the overseeing of the well-being of the player and of the organization is factored into Matt's competitiveness, and I think that's the dynamic that's working here."
In terms of Harvey's timetable, Boras said pitchers who wait 14-16 months after the surgery to get into a game have a higher success rate than those who wait 10-12 months. Following the longer rehab program would mean Harvey -- who had Tommy John last October -- would not participate in the Fall Instructional League.
"With elite athletes, high-velocity guys, to err on conservatism and more time is the proper course," Boras said.
Harvey isn't Boras' only client to have his ulnar collateral ligament reconstructed. Washington's Stephen Strasburg tore his in 2010, and Miami ace Jose Fernandez got the bad news in May.
The recent surge of hurlers requiring Tommy John surgery is concerning enough to Boras that he invested resources into studying the data on his own. He said since 2004, the 500 pitchers 25 years old or older to break into the big leagues have a Tommy John rate of 3 percent. Those who make their debuts between ages 19 and 21 have an 18 percent rate.
"Those young men who debut at the big leagues at those ages have velocity, but they also don't have the benefit of a mature body like a 25-year-old," Boras said. "The issue is, can you put players like that at that age in the Major Leagues and not hurt them?"
Boras thinks so, but it might require a potentially dramatic fix. He suggested curtailing those young phenoms' innings limits even more than they already are. If a pitcher tosses 110 innings one year, have him do 120 the next, then 130 after that. That would give young pitchers more time to truly grow into their bodies before carrying a significant workload. It might also mean a guy like Fernandez would not necessarily throw 172 2/3 innings as a 20-year-old Major Leaguer.
A program like that, however, would lead to the rest of a club's pitchers having to pick up the slack.
"That would mean all we'd have to do is expand the rosters," Boras said. "That's going to increase what? Costs. But the cost of losing a 19-, 20-, 21-, 22-year-old franchise player that are the best we have, the most exciting we have, I think is far greater than it is by increasing the rosters to 26, 27."
Tim Healey is an associate reporter for MLB.com. This story was not subject to the approval of Major League Baseball or its clubs.