Mets set rotation for first post-break series
Niese could start July 21 vs. Mariners after Colon, Gee, Wheeler face Padres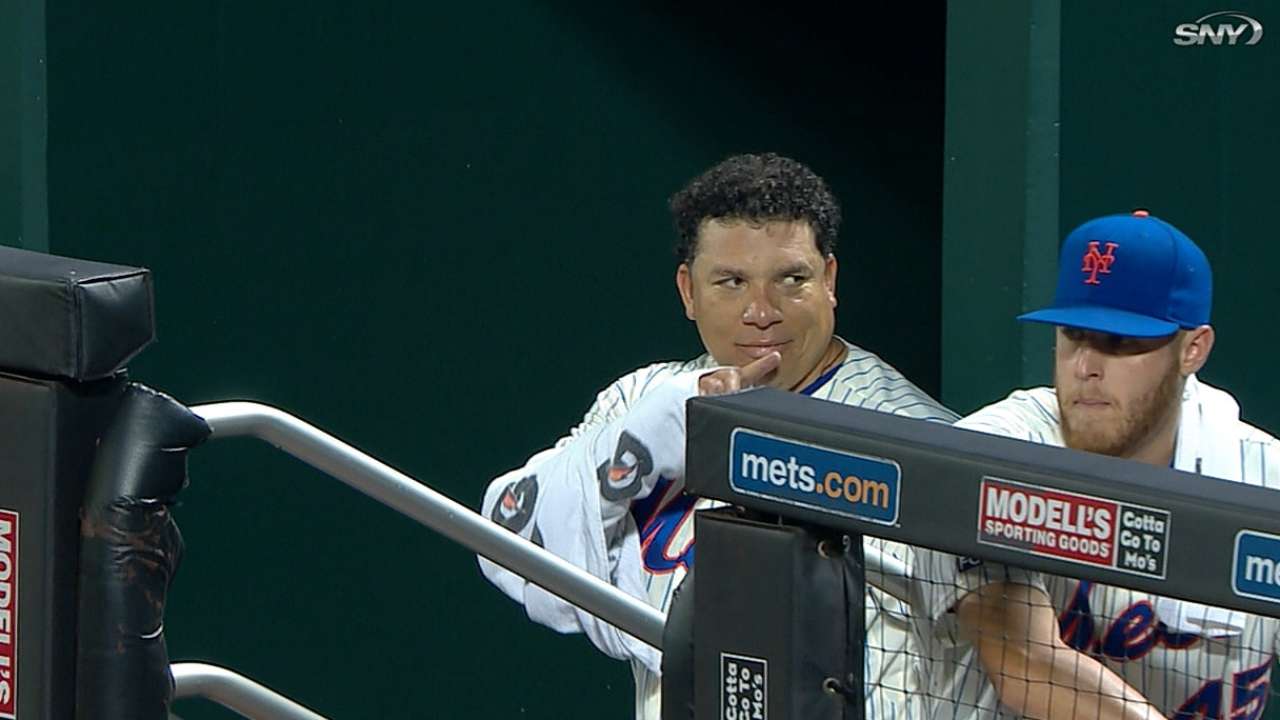 NEW YORK -- When the Mets reconvene in San Diego after the All-Star break for a three-game series with the Padres, a trio of right-handers will get the ball, according to manager Terry Collins. Bartolo Colon, Dillon Gee and Zack Wheeler -- in that order -- will make their first starts of the second half during that first weekend. Jon Niese appears on track to join them shortly thereafter.
Colon will go on eight days' rest, while Gee has 10 days between starts to prepare for his second outing since returning from the disabled list, and Wheeler gets nine days off.
"I didn't think it was that deep [of a thought process]," Collins said. "After that will be determined by the health of some guys."
Specifically, the Mets are waiting to see how Niese rebounds during a stint on the DL for his tired left shoulder. Niese worked out Sunday, throwing 21 pitches, sitting down for a while, then throwing 17 more to simulate a more game-like rhythm.
"It's good, felt good," Niese said. "Little rusty at the beginning, but I was able to get loose off the mound and was able to cut loose, so it felt good."
He will throw again Friday in San Diego and could start July 21 -- the date he previously pegged for a return -- against the Mariners, through that is not official.
That leaves two pitchers, Jacob deGrom and Daisuke Matsuzaka, for one more spot. After deGrom limited the Marlins to one run over seven innings on Sunday -- lowering his career ERA to 3.18 and his ERA over his last five starts to 1.65 -- Collins said deGrom will not be removed from the rotation. For now.
"But we might look up in a month where he is starting to run out of gas a little bit to where we have to make a decision," Collins said.
deGrom has thrown 112 innings this season, giving him plenty of breathing room before approaching the target of 185 innings, mentioned by general manager Sandy Alderson last week.
If deGrom indeed rounds out the rotation to open the second half, July 22 -- two days after Wheeler pitches -- is the practical date for his next start.
"One of the things we did talk about is we probably, if Jake's going to be in the mix, we wanted to split those two guys up, Wheeler and deGrom," Collins said. "They're somewhat similar guys, so we wanted to split them up."
Tim Healey is an associate reporter for MLB.com. This story was not subject to the approval of Major League Baseball or its clubs.