MLB.com Columnist
Marty Noble
At Citi Field, ya gotta believe better days ahead
It's more like 1983 than '73, but Mets are poised to become NL East factors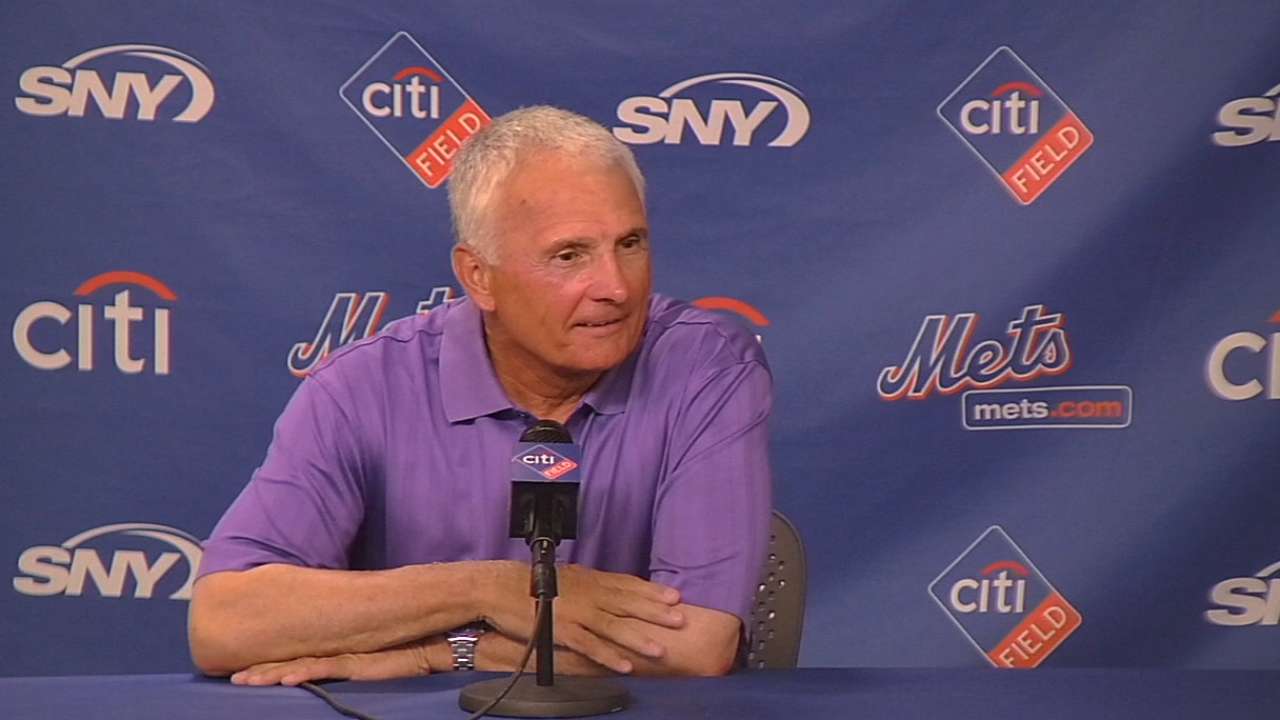 NEW YORK -- In this game -- still the best game ever invented by man or a supreme being -- the past has exhalted standing. We cherish it, salute it, enjoy reliving it, obsess over it, and we use it as a yardstick. All that, even though nostalgia isn't quite what it used to be. These days, the particular past folks are fussing about in and around Citi Field involves the other Miracle Mets; not those of 1969, but those "Ya Gotta Believe" Mets of four years later.
Because the National League East standings that exist today are, in some ways, comparable to those of the All-Star break of 1973 -- and because the Mets finally are performing at a competitive level -- folks in these parts have begun to think (read: fantasize) that the Mets of 2014 could repeat the unfathomable rise-and-conquer achieved by Rusty, Tug, Tom Terrfic, Cleon, Koozy, Matlack, Buddy and Yogi 41 years ago. That is, these pie in the skyers sense the current bunch could crawl from the wreckage of the first 3 1/2 months and secure a place in the postseason.
Not likely. Indeed, no chance. Let's get real and recognize that Terry Collins' fourth set of Mets have neither a hitter so reliable as Rusty Staub, nor one so skilled as Cleon Jones -- when he chose to demonstrate his skills. Nor does it have a Tom Seaver, Jerry Koosman or Jon Matlack, a Buddy Harrelson at shortstop, a Jerry Grote behind the plate of even a George Stone to win 12 games. And Jennry Mejia is not about to duplicate what Tug McGraw provided in saves, quality innings and battle cries.
So allow us now to replace one preposterous notion with one that more closely fits what occurred 10 years after Tug convinced the metropolitan area to have faith. Welcome to the Mets of 1983, the Mets that ushered manager George Bamberger to retirement and gave his 6-8 successor Frank Howard multiple reasons to slump to 6-foot. They were another dreadful team, destined to produced 94 losses and the fourth last-place finish in the six seasons that followed Seaver's exile in '77.
Those were the Mets of apathy, of George Foster, Mark Bradley, Mike Howard, Junior Ortiz and Brian Giles. They could have exasperated Job.
They also were the Mets of Jesse Orosco, Hubie Brooks, Mookie Wilson, Craig Swan, John Stearns, Ed Lynch, Bob Bailor, Staub, Seaver and, by mid-June, Darryl Strawberry and Keith Hernandez, guys with futures and/or big league pedigree. Some were the seeds of the '86 runaway.
The current Mets have played 95 games. Their 9-1 victory against the Marlins on Sunday put their victory total at 45. They have won eight times in a 10-game sequence that began after they had lost seven of eight. The '83 crew lost 60 of its first 95 games. Its winning percentage was .368, and it was in last place, eight games behind the next closest team.
But they were improving -- in subtle and not-so-subtle ways.
"We were just more competitive," Wilson said years later. "We won more [the Mets' winning percentage in their final 67 games was .507], but really, the thing we noticed more in the dugout is that we started playing better baseball, smarter baseball. A lot of that -- especially in the infield -- was Keith. He made such a difference. He helped the pitchers too. He changed the team. We played with more energy, and he made the rest of us more aware."
The current roster has no player with influence comparable to what Hernandez demonstrated then, and for the subsequent six years; nor does it have a position player with talent even remotely close to that of Strawberry. No player of prowess equal to that Hernandez or Strawberry is on the horizon either. So comparisons of the '83 and '14 Mets can't be balanced.
All the Mets have produced to this point is a brief renaissance, 10 games of crisper and more compelling baseball; even in losses. Components of the brightened outlook include the resurgence of Travis d'Arnaud, more consistent defense and offense from Ruben Tejada and more double plays turned, the return to active duty of Juan Lagares, the seemingly enhanced power of Lucas Duda and Curtis Granderson, the line-drive hits of Daniel Murphy and Eric Campbell, the always earnest presence and influence of David Wright and all that pitching that has come to the fore.
Jacob deGrom's pitching has been quite uplifting, Mejia has been a revelation, Dillon Gee has it figured out.
And lest a critical change go unmentioned, the batting order takes less and hits more -- though its runs-per-game average is virtually unchanged -- since Lamar Johnson took over as hitting coach.
Moreover, the squeezing and double-stealing Mets of July play nine innings -- or whatever number is required -- in each game, a practice that has been mostly routine since Collins was appointed manager.
So with baseball's annual coffee break upon us, the Mets are a more promising bunch than they were the summer began. Sharper, crisper, happier, more compelling and promising. But that's it. They're not about to meet the 90-win challenge/folly spoken by Sandy Alderson in March. It was the '84 Mets who won 90 games, but there was prenatal improvement in '83.
So, for now, monitor them, appreciate their development, anticipate the acquisition of hitter with genuine credentials and years of production remaining. Perhaps seek divine intervention, too.
And wait till next year.
• • •
If this is, in fact, the first stage of a U-turn in the Mets' fortunes, and if the Yankees are -- as they appear to be -- approaching a period of no-Jeter, no-Tanaka mediocrity, then the juxtaposition of New York City's baseball teams is up for a change as well.
The Mets won 90 games in '84, the Yankees 87. But the roots of the change developed in '83. That was the beginning of the Big Apple Turnover.
Marty Noble is a reporter for MLB.com. This story was not subject to the approval of Major League Baseball or its clubs.