Road trip to help GM choose course for Trade Deadline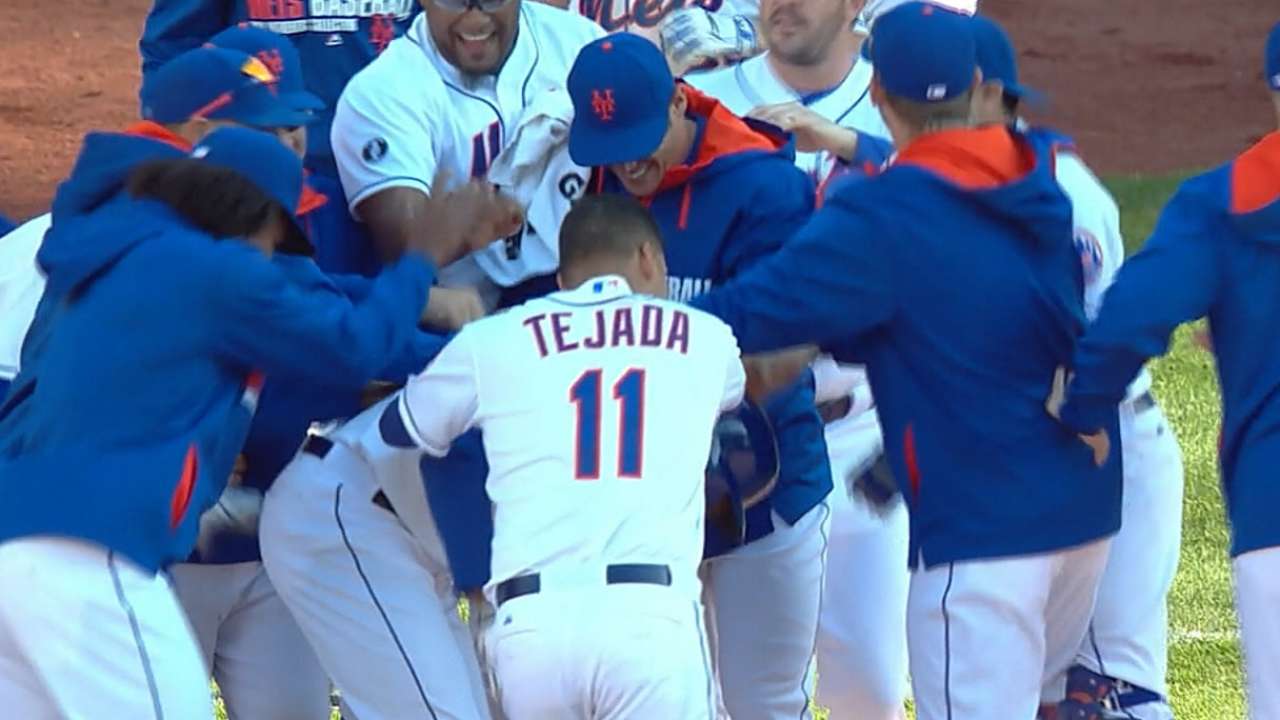 SAN DIEGO -- Thirteen days before the non-waiver Trade Deadline, Mets general manager Sandy Alderson painted the picture of a Mets team more likely to buy than sell -- should the club decide to do anything at all.
"I think we have flexibility," Alderson said. "It depends on where we are and how we're performing."
Coming into this month, the thought of the Mets trading away young pieces for established veterans seemed outlandish, considering their steady slide toward the bottom of the National League East. But the Mets won eight of their final 10 games leading into the All-Star break, lifting them to within seven games of the division-leading Nationals and Braves.
Whether the Mets can retain that momentum coming out of the break will go a long way toward determining what Alderson does or doesn't do at the deadline.
"The next 10 days or so are going to be as important, if not more important, as the last 10 before the break," the GM said. "It was nice to go 8-2, but we've got a lot of ground to make up. It will be important to put wins on the board the rest of the way. I think that will give us a good idea."
The Mets enter the second half of July with few glaring roster needs, but several areas in which they could stand to improve. Most notably, the team would do well to add an established everyday left fielder to their lineup; right now, manager Terry Collins is juggling four players -- Kirk Nieuwenhuis, Eric Young Jr., Chris Young and Bobby Abreu -- in and out of that one spot.
Yet to add such an offensive player would likely require the Mets to trade away useful prospects -- something Alderson has been loath to do throughout his tenure. It is exceedingly unlikely that the Mets would add any veteran not under team control beyond this season.
"I don't like to trade young players," Alderson said, "but sometimes you have to."
Adding pieces at the deadline would also require a leap of faith for a Mets team not expected to compete for a playoff berth coming into this season.
"Sometimes you've got to believe, right?" Alderson said. "This is a time."
For now, Alderson will wait and see. It appears all but certain that the Mets will not deal away established veterans Daniel Murphy or Bartolo Colon unless they slide rapidly down the standings during their first road trip out of the break, a 10-game swing through San Diego, Seattle and Milwaukee. By continuing to win, the Mets could ensure that Alderson will at least attempt to add pieces at the deadline.
"I don't know if there's any magic formula, but certainly they played great coming into the break," Collins said of the Mets. "I think they all needed to rekindle some energy, and hopefully we come out of that break playing the same way."
Anthony DiComo is a reporter for MLB.com. Follow him on Twitter @AnthonyDicomo. This story was not subject to the approval of Major League Baseball or its clubs.