Mets call up Flores, send down Nieuwenhuis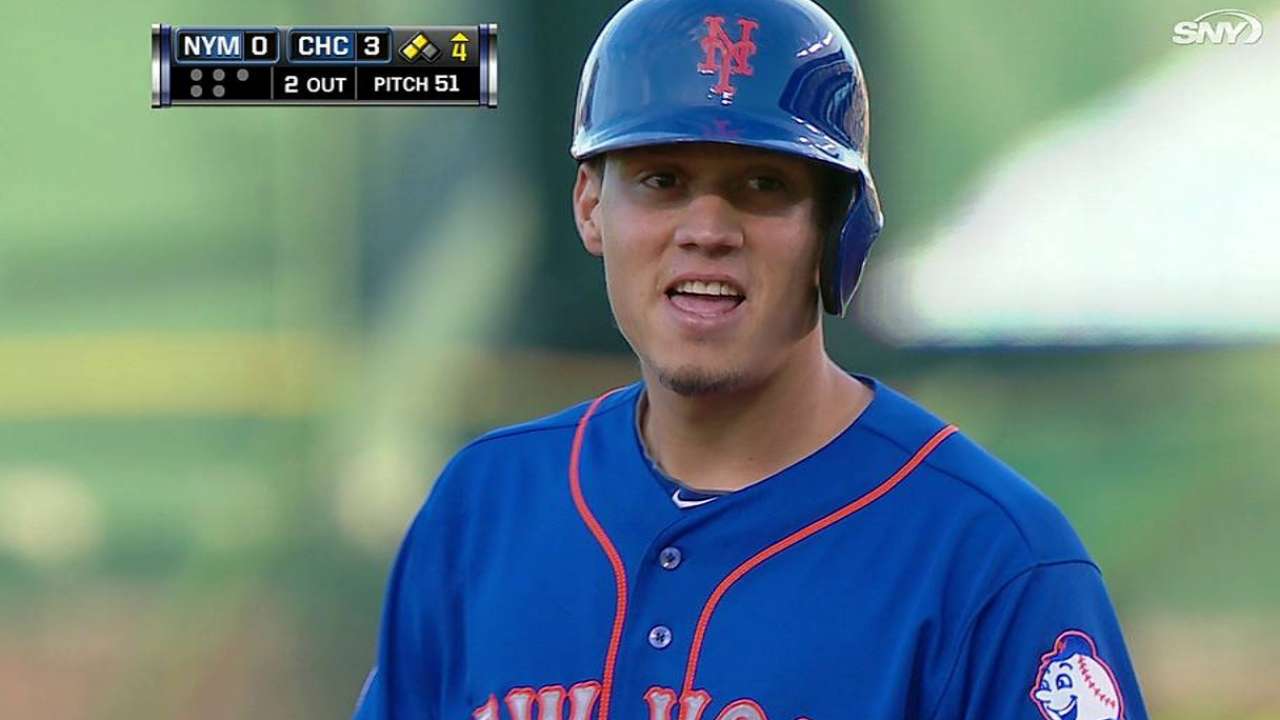 MILWAUKEE -- Lacking a true utility infielder on their bench, the Mets recalled Wilmer Flores from Triple-A Las Vegas and sent down outfielder Kirk Nieuwenhuis on Thursday.
Flores played shortstop and batted seventh Thursday night against Brewers right-hander Matt Garza in Milwaukee. Flores was promoted so the team could give Ruben Tejada a day off after he was hit in the head by a 94-mph fastball on Wednesday, but Mets manager Terry Collins said he expects it to be more than a short-term callup.
"I think it's going to be more than [a couple days]," Collins said. "We want to work him in the lineup as best we can and make sure he gets at-bats. Maybe split some time with Ruben, maybe give [Daniel Murphy] a day off here and there, maybe play third base. We'll try to move him around."
This will be Flores' third stint with the Major League club this year. He was with the Mets from April 2-6 and May 8-June 25, batting .225 in 25 games over that span. Flores briefly claimed the starting shortstop job before Tejada won it back, and the Mets sent him to the Minors in an effort to give him more regular at-bats.
He's made the most of the opportunity: Flores was hitting .323 with 13 home runs and 57 RBIs in 55 games for Las Vegas. Those numbers include a 22-game hitting streak that ended Monday.
Will Flores' eye-popping Triple-A numbers translate to more playing time with the Mets?
"I don't know yet. That's a legitimate question to ask and I don't know yet," Collins said. "We're playing pretty good. I'm trying to keep things from being disrupted as much as I can because I like the way things are going right now, and the clubhouse is in pretty good shape as far as their mental approach. I'm trying not to disrupt that as best I can. We'll see."
Nieuwenhuis was batting .246 in 30 games with the Mets this season, and Collins said his demotion was simply a matter of numbers.
"He's been pretty good. Unfortunately, you reach a situation where there's only certain guys you can move. He was aware of that," Collins said. "I told him it's going to allow him to go down and be an everyday player which, as we've seen before, is very beneficial, because when they come back they've gotten off to pretty good starts."
Caitlin Swieca is an associate reporter for MLB.com. Follow her on Twitter at @CaitlinSwieca. This story was not subject to the approval of Major League Baseball or its clubs.