Reliever Familia steps up in batter's box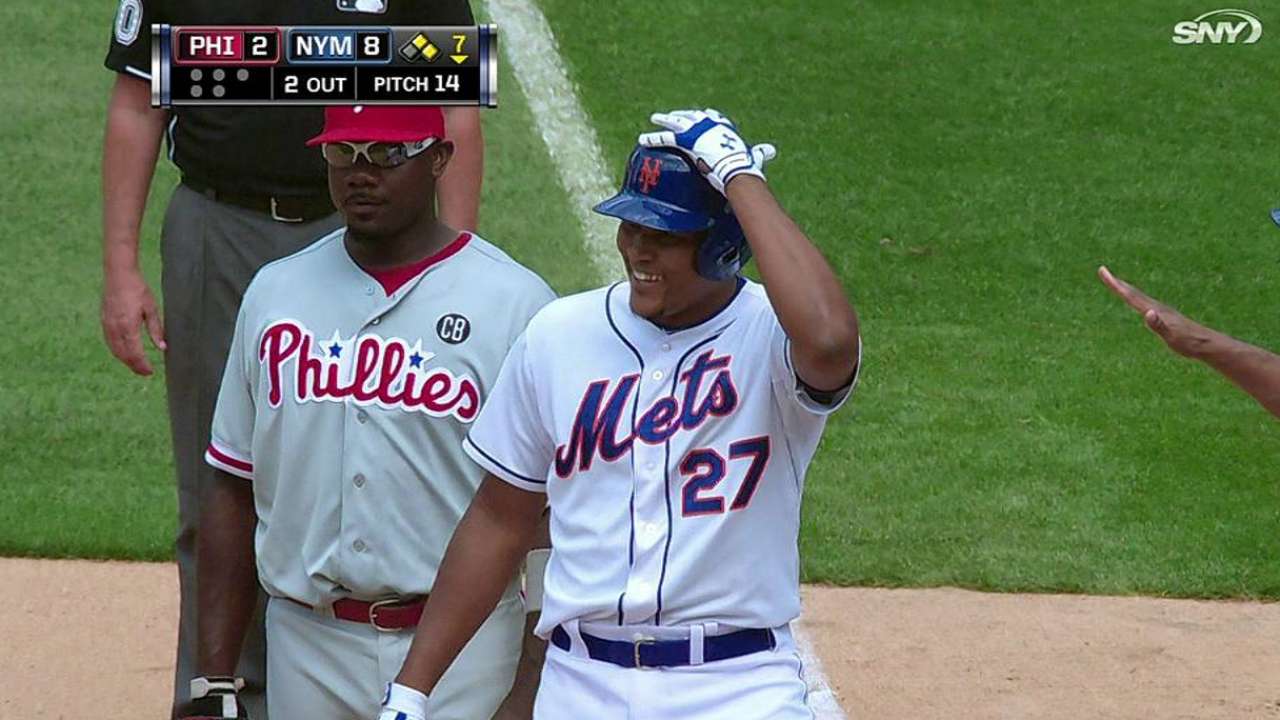 NEW YORK -- Jeurys Familia hasn't batted regularly since 2012, when he was a starter in the Minors, but when Phillies righty Justin De Fratus sent a 1-0 fastball down the middle of the plate, even Familia -- a reliever taking his third Major League at-bat -- knew what to do with it.
"I just tried to see the ball and hit it," Familia said.
He did, and it was a line drive to left field. Chris Young came to the plate on Familia's first big league RBI to extend the Mets' lead in the seventh inning of an eventual 11-2 win over the Phillies.
Familia became the first Mets reliever with an RBI base hit since Raul Valdes on May 25, 2010 -- also in a blowout win over Philadelphia -- and the first reliever to do it for any team since Arizona's Trevor Cahill last August. That one came against the Phillies, too.
The base knock Wednesday was Familia's second in as many plate appearances this season, the first coming May 28 against the Pirates. That ball -- wrapped up with a rubber band and piece of paper specifying its significance -- still sits in Familia's locker.
At 6-foot-3 and 240 pounds, Familia's frame is one that is easy to imagine belonging to a slugger when he was a youngster, but the right-hander insists that wasn't the case. His only position-playing experience came at third base for "a couple of months" during his little league days.
So, now that he's a career .667 hitter -- 2-for-3 -- might he be pining for some pinch-hit opportunities?
"No, no," Familia said with a laugh and shrug of his shoulders.
Anthony DiComo is a reporter for MLB.com. Follow him on Twitter @AnthonyDicomo. Tim Healey is an associate reporter for MLB.com. This story was not subject to the approval of Major League Baseball or its clubs.