den Dekker promoted, C. Young designated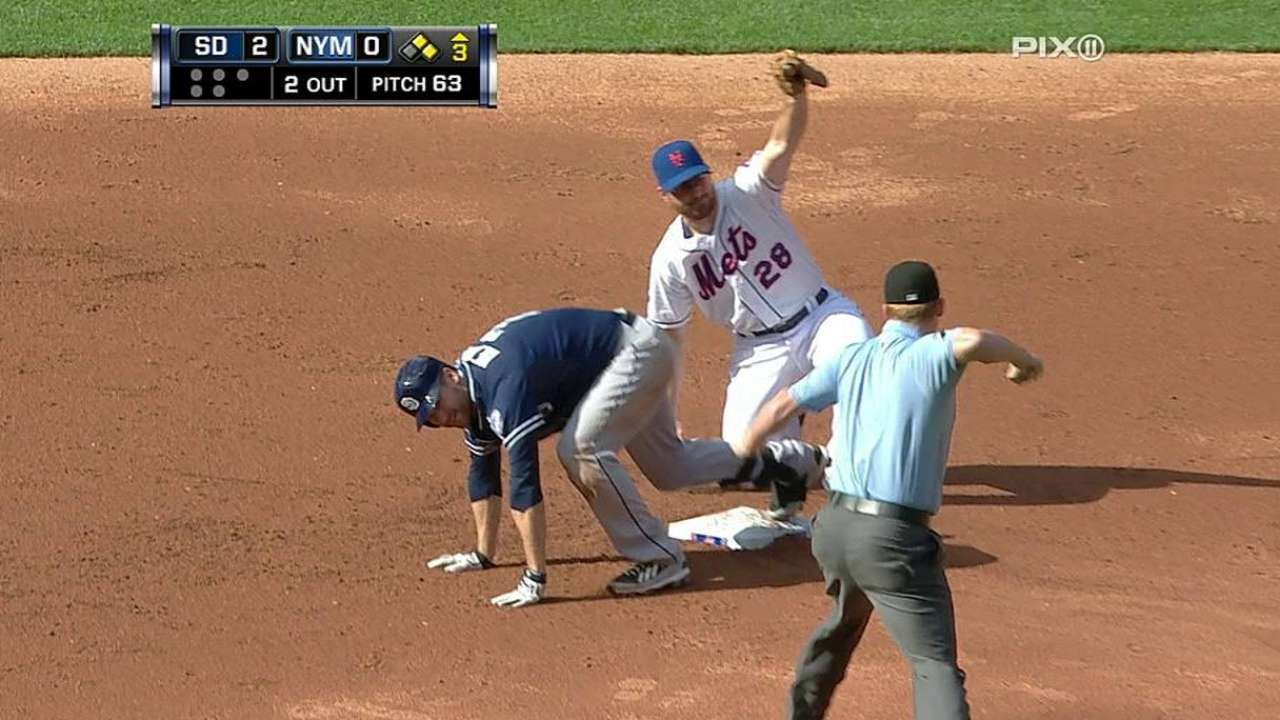 PHILADELPHIA -- Matt den Dekker continued to rake in Triple-A Las Vegas, leading the Mets' front-office staff to consider promoting him. den Dekker would likely get a call by Sept. 1 when rosters expand, but his play -- he led the Pacific Coast League with a .334 batting average -- warranted discussions of an earlier promotion.
On Friday night, all those talks, discussions and considerations came to fruition when the Mets recalled den Dekker. In a corresponding move, the team designated outfielder Chris Young for assignment.
"He's been outstanding at Las Vegas," Mets general manager Sandy Alderson said. "We needed a left-handed hitter in the outfield. At some point, you have to make a move."
"We've talked a lot about the way Matt's been playing," Mets assistant general manager John Ricco said. "We talk to these guys who get up and down and we say, go down and play well and you'll get your shot. We'll he's been doing that. ... He definitely has played into the conversation of let's give this guy a chance and see what he can do."
den Dekker struggled in his first opportunity this season, hitting just .156. A more glaring stat was his 13 strikeouts in 45 at-bats, but he has since made adjustments.
"One of the things that we've asked him to do that he's done well is cut down on the strikeouts," Ricco said. "The strikeout rate is definitely down this year and that was a big part of what was keeping him from having success up here."
With all the talk of the Mets giving younger players a chance as the season winds down, Ricco offered a disclaimer.
"We're still trying to win games and we're not just going to run somebody out there to evaluate at this level," he said. "It's not what we're here for.
"We're results-based. We want to win as many games as we can, but you also, from a front-office role, want to have as much information as you can to make good decisions. So you're constantly balancing that, especially at this time of the year."
The balance shifted away from Young, who proved to be an unsuccessful experiment. In 254 at-bats as a Met, Young hit .205 with eight homers and 28 RBIs.
"One of the reasons we got him is we knew he had some power," Mets manager Terry Collins said. "He's hit 30 homers before. We play in a tough park. He's pretty much a dead-pull hitter, and it makes it even tougher. We tried to give him opportunities to get it going. I told him, I feel terrible about it, but we're in a spot now where we want to see some young guys. We got to find some spots for them."
Young hit 32 homers for the D-backs in 2007 and 27 in '10. But the '14 version of Young looked more like what he displayed last season when he hit .200 with 12 homers in 335 at-bats for Oakland.
"He fit all of our check marks," Alderson said. "We were looking for a bounce-back from him and were willing to take a risk."
Erik Bacharach is an associate reporter for MLB.com. This story was not subject to the approval of Major League Baseball or its clubs.