deGrom to DL with tendinitis; Montero recalled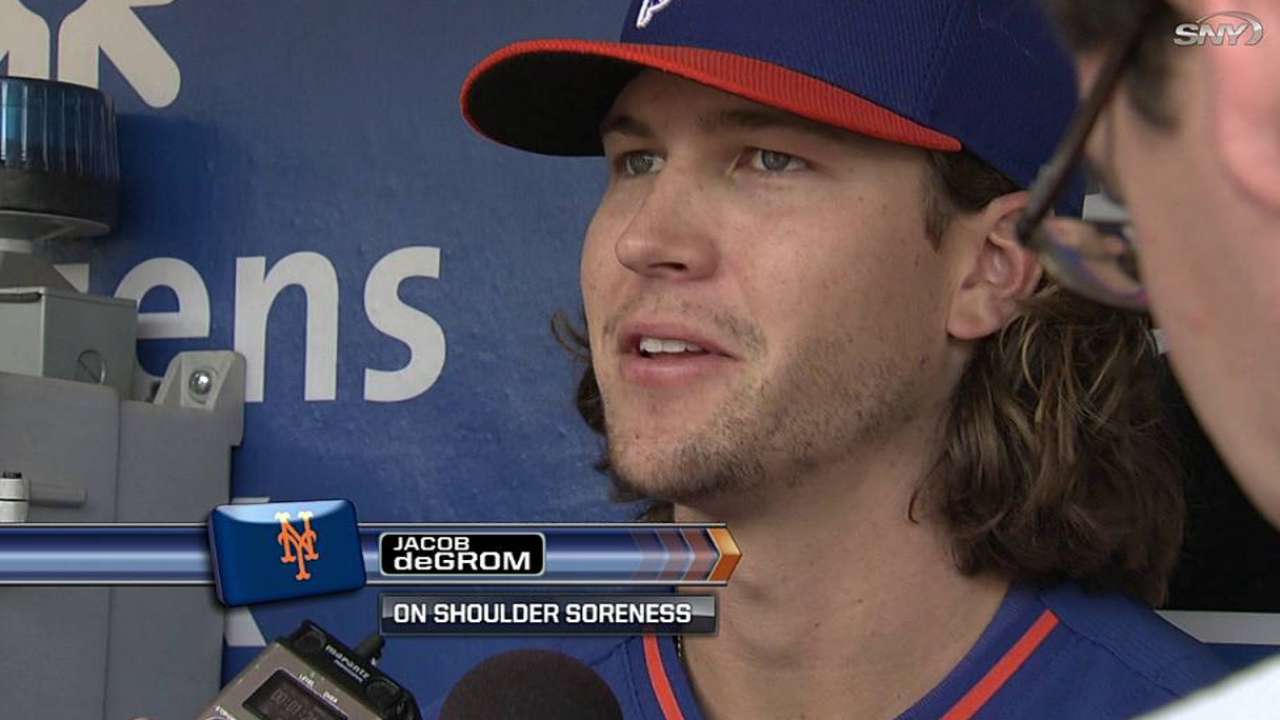 PHILADELPHIA -- The Mets announced after Monday's 5-3 win over the Phillies that Jacob deGrom will go on the 15-disabled list with right rotator cuff tendinitis.
deGrom reported shoulder soreness following his last start on Thursday, in which he gave up three runs on seven hits in six innings. He flew back to New York for an exam and an MRI.
"Last start, I felt fine," deGrom said. "I actually felt like I got stronger at the end of the game. And then just playing catch these past couple of days, I felt a little something in there."
Rookie deGrom is 6-5 with a 2.87 ERA in 16 starts. He's posted 94 strikeouts in 100 1/3 innings.
Right-hander Rafael Montero was recalled from Triple-A Vegas to take deGrom's place in the rotation. Montero will start Tuesday against the Nationals at Citi Field.
The 23-year-old Montero has posted an 0-2 record and a 5.40 ERA in four starts with the Mets this season. Manager Terry Collins expects him to make at least two starts this time around.
"We wouldn't bring [Montero] up for just one start,'' said Collins. "He'll make two [starts]. All he has to do is be himself and throw strikes.
"He's a strike-throwing machine. The first time he was here, he nibbled. If he's himself, throwing strikes, he's real good.
"The first time he was up, I told him: 'What gets you to the Major Leagues is what keeps you in the Major Leagues.' For him, it's throwing the ball over the plate.''
Montero has recorded a 6-3 record and a 3.28 ERA in 15 starts at Triple-A Las Vegas. In his last two starts, wins over El Paso at home and Sacramento on the road, he threw a combined 14 2/3 scoreless innings, with batters hitting .085 against him.
"[Montero] certainly has the stuff that will play in the Major Leagues,'' said Collins. "He needs to throw strikes, and if he does that, he'll be here for a long time."
Jed Weisberger is a contributor to MLB.com. This story was not subject to the approval of Major League Baseball or its clubs.