Hefner's setback could slow rehab for Harvey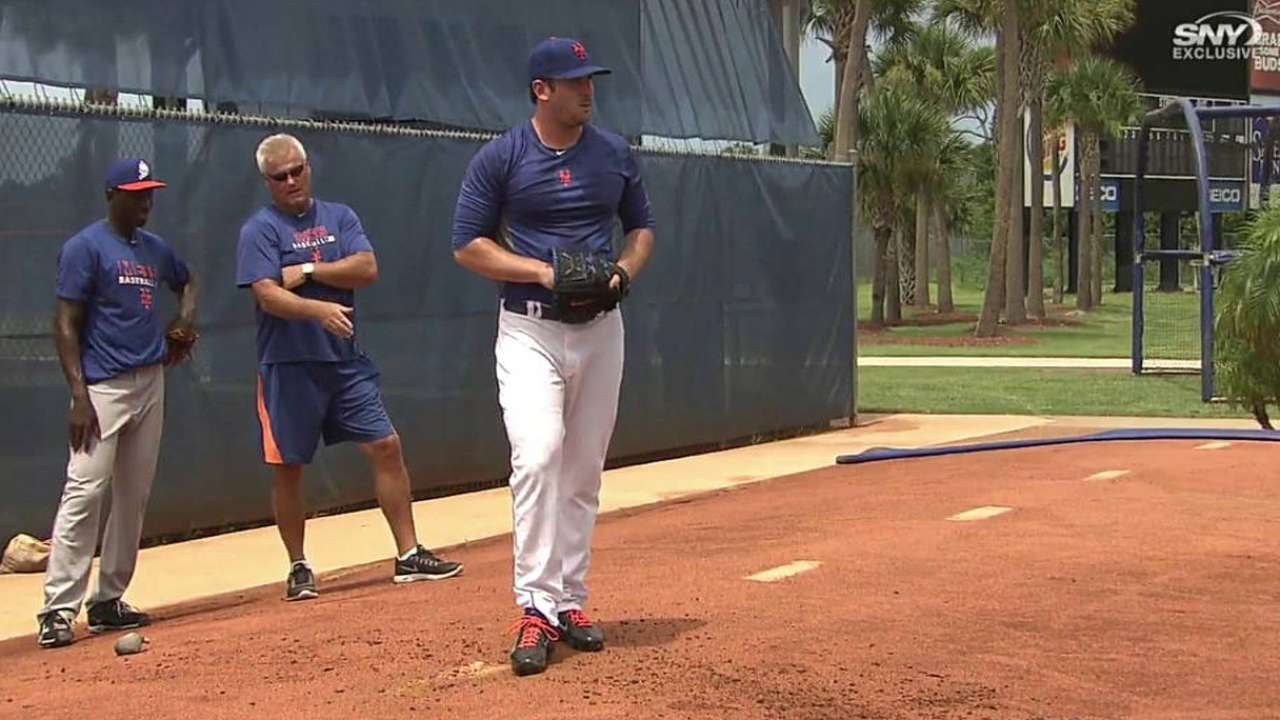 NEW YORK -- Just as Matt Harvey's rehabilitation was beginning to ramp up, the Mets might be slowing it down.
The club got word this week that right-hander Jeremy Hefner -- who underwent Tommy John surgery last August -- suffered a significant setback in the form of a reinjured ulnar collateral ligament and stress fracture of his ulna bone in his pitching arm, and according to general manager Sandy Alderson, that might be reason enough to pull in the reins on Harvey.
Alderson called Hefner's recurrence "unusual" and "a pretty rare occurrence." He also said twice that neither the Mets nor Hefner thought the pitcher's rehab schedule was overly aggressive.
Still, Alderson indicated the Mets are taking this anecdotal case and might alter Harvey's schedule following his Tommy John surgery last October.
"One of the things we've tried to do is by the end of the season, get Matt into a situation where he's comfortable going into next season. Part of that is where he is physically. Part of that is where he is mentally," Alderson said. "It's conceivable -- we haven't talked about it, but given Jeremy's situation -- we'll end up in a slightly different place physically in terms of whether he's throwing bullpens or live BP or actual innings."
Harvey is working out at the Mets' Minor League complex in Port St. Lucie, Fla., and making his way through that progression -- from mound sessions to batting practice to games. Earlier this month, the plan was for Harvey to work through at least the end of September and potentially pitch in an Arizona Fall League game.
Alderson said Harvey's timetable will not face any immediate changes given that the right-hander is still only throwing off a mound. The team will consider alterations "over the next week or so."
"Matt's a very smart guy, and yes, he tends to be very intense about everything, including his rehab, and aggressive about it," Alderson said. "At the same time, I think he is constantly reassessing based on new information -- new information about how he feels, about the nature of the injury and other cases, other situations. My sense is Matt will at least take this into account, as we are."
Alderson did acknowledge that making sure Harvey is mentally comfortable heading into the winter is an important factor.
"That doesn't have to involve pitching in a Major League game, that doesn't have to involve pitching in a Fall League game, that doesn't have to involve pitching in even the Instructional League," Alderson said.
Alderson sidestepped a question about how receptive Harvey was to the idea of not pitching an inning this season.
"That's something you'll get a chance to ask him at some point. My sense is he's reassessing," Alderson said. "It's conceivable that Matt will feel fine saying, 'Hey, I'm just going to throw bullpens the rest of the year, and I'll see you in Port St. Lucie.'"
Tim Healey is an associate reporter for MLB.com. This story was not subject to the approval of Major League Baseball or its clubs.