deGrom encouraged by shoulder's progress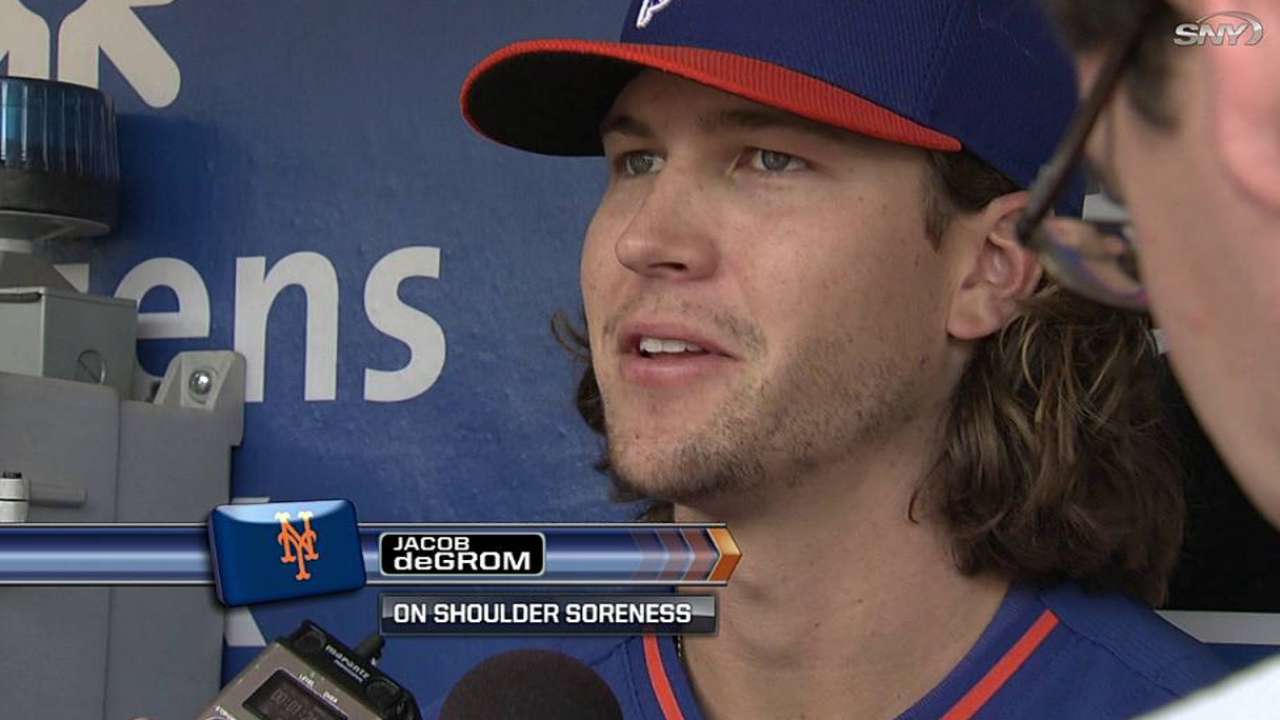 NEW YORK -- It's only been a day since the Mets placed Jacob deGrom on the 15-day disabled list with rotator cuff tendinitis, but the rookie righty is already encouraged by how much better he feels. The hope is he will miss just two starts and return when he is eligible on Aug. 23.
"I already feel a lot better with just the couple of days' rest that I've had [compared to] doing the tests the other day at the hospital," deGrom said. "My strength is a lot better than when I first did them."
deGrom is taking anti-inflammatories and receiving physical therapy on his shoulder. He does not know when he'll start throwing again, but manager Terry Collins said it could be toward the end of this homestand, which wraps up Monday.
General manager Sandy Alderson said deGrom was initially reluctant to go on the DL but ended up buying into the club's thinking. deGrom said given his innings limit -- Alderson has previously pegged it around 180 -- he would have likely missed a start or two anyway, so it made sense to allow this bout of tendinitis to recede more completely.
That will give deGrom, who has thrown 138 2/3 innings between the Majors and Triple-A Las Vegas, the best chance to finish the season on a positive note.
"You want to finish strong and healthy," deGrom said. "The most important thing right now is to make sure everything feels fine whenever I come back.
"It's good to know it's nothing serious, which I didn't think it was to begin with. Getting [test results] back and knowing it's not [serious] is a good feeling."
Tim Healey is an associate reporter for MLB.com. This story was not subject to the approval of Major League Baseball or its clubs.