Tejada adjusting to reserve role with Mets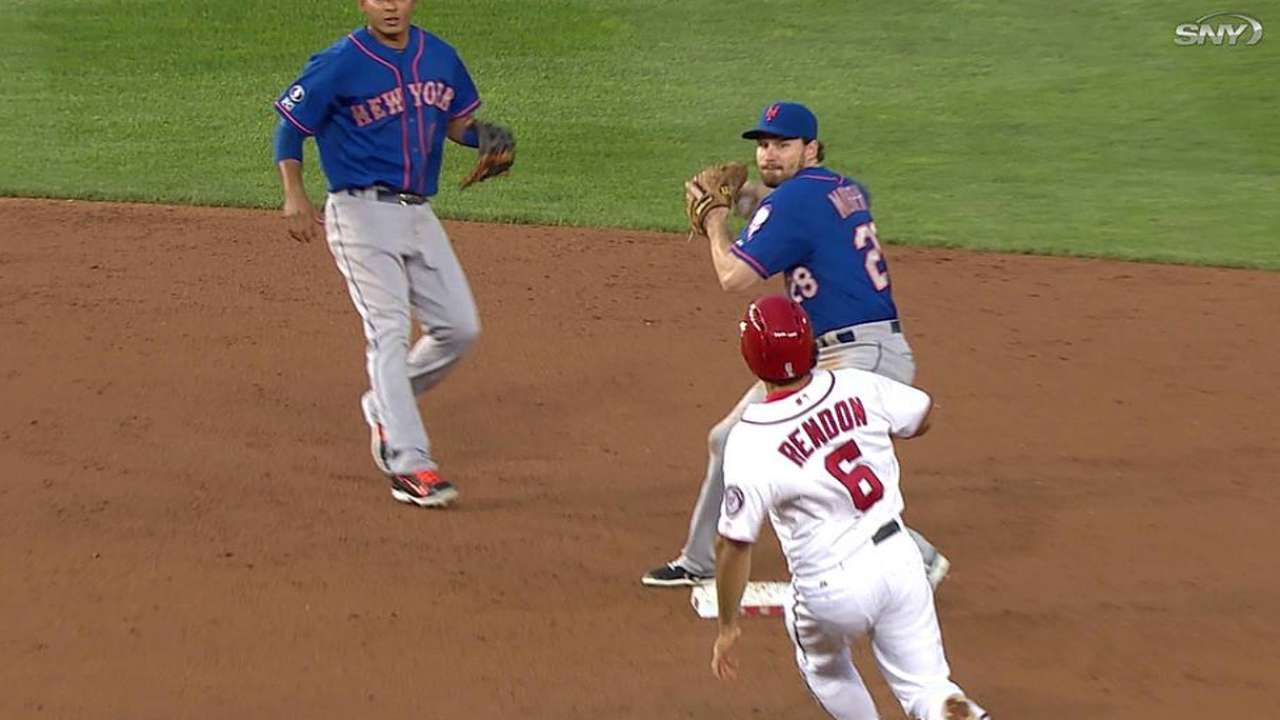 NEW YORK -- The biggest question surrounding the Mets' middle infielders -- though not necessarily a topic of conversation between them -- got an answer last week when the club named Wilmer Flores the starting the shortstop for the rest of the season after several months of ambiguity. Ruben Tejada was relegated to the bench.
A week later, it's hard to tell how Tejada is adjusting to the more clear-cut reserve role.
"His outward appearance, he's been OK. He works hard, he does his extra hitting, he does his extra fielding," manager Terry Collins said. "Inside, I'm sure he's furious. And he should be, because he was the shortstop here, and now he's got to watch.
"But he has not been an issue as far as the preparation side. Once in a while, you may not like something, but you have to accept some things, and during that process you have to keep yourself ready. He's done that."
For his part, Tejada stuck to the party line regarding his new, lessened role.
"I don't think it's any different," Tejada said. "Just wait for my opportunity to play."
Entering play Thursday, Tejada had gotten into one out of the Mets' last seven games, and there isn't reason to believe he'll see much more time going forward.
Eric Campbell and Kirk Nieuwenhuis, both of whom boast better offensive numbers than Tejada, have been getting most of pinch-hitting chances of late. Eric Young Jr. is the team's designated pinch-runner.
That leaves Tejada as strictly a defensive replacement most days, just as he would have been if the Mets' 3-2 loss Wednesday ended up in extra innings after Young pinch-ran for Flores.
To make the most of it, Tejada aims to stay active in the event he's called into action. That involves a routine of plenty of mid-game stretches, soft toss and offspeed-pitching work in the batting cage.
"It's different, because when you're not playing, you take one pinch-hit that day or something or play defense. It's a little bit harder," Tejada said. "When we start playing, stay ready. You never know what's going to happen."
Tim Healey is an associate reporter for MLB.com. This story was not subject to the approval of Major League Baseball or its clubs.