Good news from deGrom: 'No pain'
Rookie right-hander throws, could return soon from rotator cuff tendinitis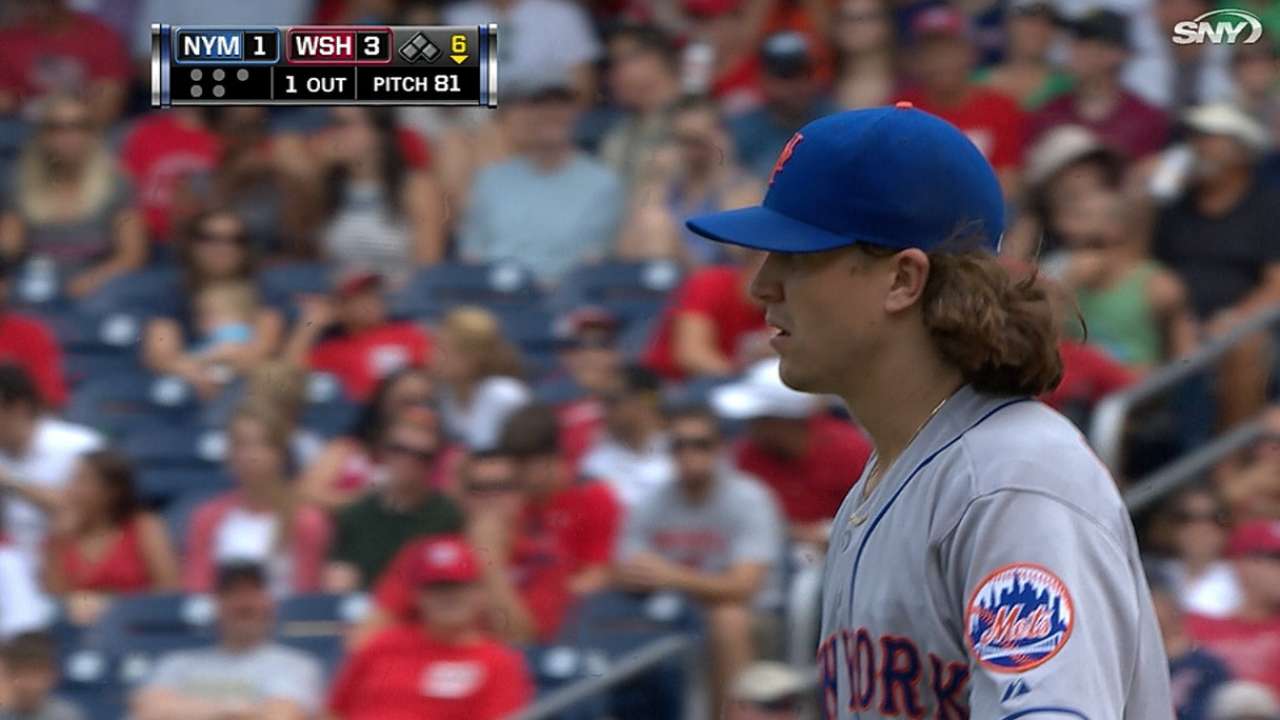 NEW YORK -- Jacob deGrom met with the media prior to Saturday's contest against the Cubs and, after several days of uncertainty regarding the tendinitis in his right rotator cuff, the rookie right-hander was back to being all smiles.
"Threw out to 90 feet, and no problems with it. That's good news," deGrom said. "No pain. As good as I could hope for."
Next, deGrom will likely throw a bullpen session Sunday, though beyond that there is no set schedule. A Minor League rehabilitation assignment could be in the works, and the hope remains that deGrom will miss only two starts.
That would put him on track to start next Saturday against the Dodgers in Los Angeles.
"In an ideal world, yes," manager Terry Collins said. "I'm not sure we live in one of those."
With the Mets' off-day Thursday, the club does have the option of simply skipping that slot in the rotation -- currently filled by Rafael Montero, who will pitch Sunday -- and sliding deGrom in whenever he is ready, in the event he needs an extra day or two. The wild card in that decision is Daisuke Matsuzaka (sore right elbow), who pitched for Double-A Binghamton on Saturday and is being stretched out in case the Mets need him to be a starter.
But that's a decision for another day. For now, deGrom and the Mets are just happy this first step back was a step forward.
"We really are [encouraged]," Collins said, adding that deGrom "says he feels great, there's no discomfort at all. Hopefully we're on the right track."
Given that deGrom was likely going to be shut down sometime next month when he reached his innings limit -- believed to be in the neighborhood of 180-185 -- he sees the silver lining in this minor injury.
"That's a plus," said deGrom, who has already thrown 138 2/3 innings between the Majors and Triple-A Las Vegas. "I think at some point I was going to get shut down anyway with an innings limit, so I guess it came at a good time. Get it back feeling 100 percent and hopefully finish the season strong.
"I was relieved when I got the MRI and the results came back. To go out today and not feel anything was a good feeling."
Tim Healey is an associate reporter for MLB.com. This story was not subject to the approval of Major League Baseball or its clubs.