HBP, Wright exits with soreness in troubled shoulder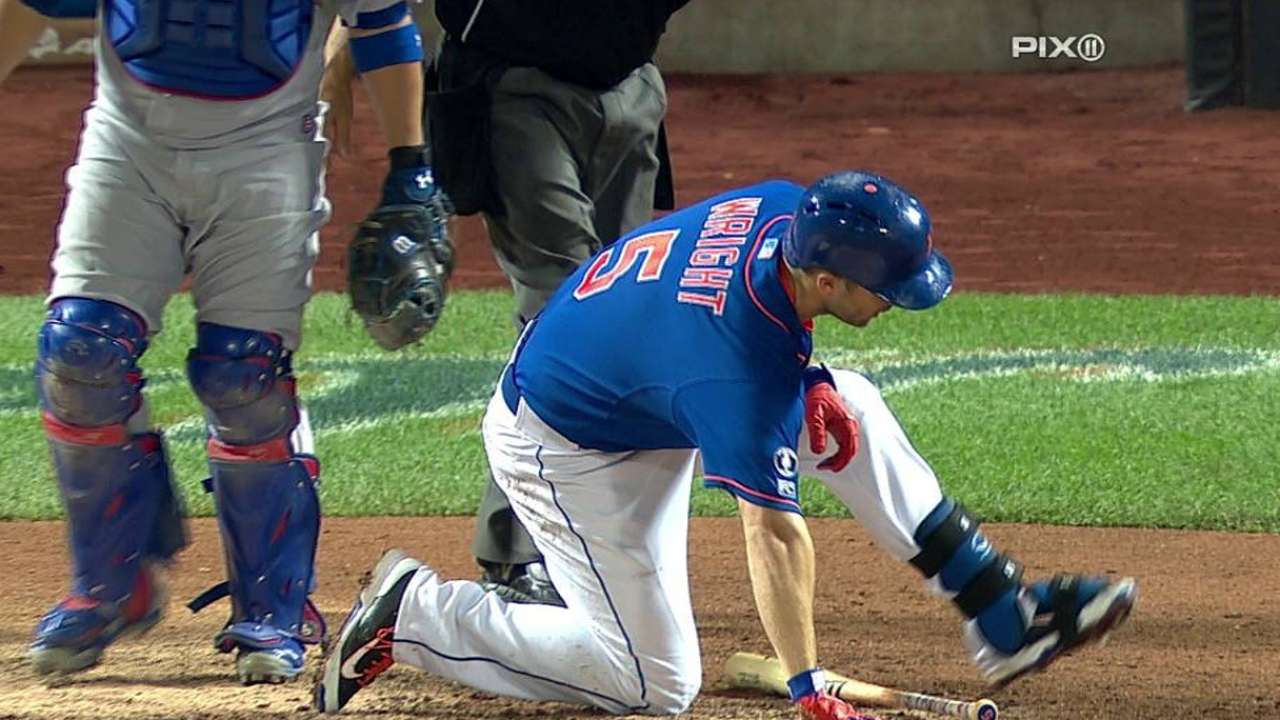 NEW YORK -- Mets manager Terry Collins has been looking for a reason to give David Wright a day off before the team's off-day Thursday. Now he has one.
The third baseman exited Saturday's 7-3 win against the Cubs in the seventh inning due to posterior left shoulder soreness, the team announced. Wright was hit in the back by a pitch -- an 88-mph fastball from Dan Straily -- in the bottom of the sixth inning. He stayed in the game and came around to score, but Eric Campbell replaced him at third base in the seventh.
More troublesome than the hit-by-pitch itself is where it got Wright -- the back of his left shoulder, which has already given him issues this season.
"Out of my whole back it had to be kind of that one area," Wright said. "It shouldn't be anything. It's just bruised up and sore and a little stiff. See how it feels tomorrow."
Collins said Wright will probably get "a day or so off," though he will wait to see how Wright feels physically in the morning before making that determination.
Wright missed seven games at the end of June and beginning of July due to soreness in the same shoulder. Recently, he has regularly downplayed the effect it might be having on his game -- including his .236 average and .283 on-base percentage since he received a cortisone shot -- while Collins has referenced it as a situation that merits monitoring.
Wright stuck to his usual no-excuses tone Saturday night.
The coaches "thought it was best to give it a little bit of a rest," Wright said. "I just wish it had been a different spot. It kind of got me in a perfect spot."
Tim Healey is an associate reporter for MLB.com. This story was not subject to the approval of Major League Baseball or its clubs.