Wright, Murphy day to day with minor injuries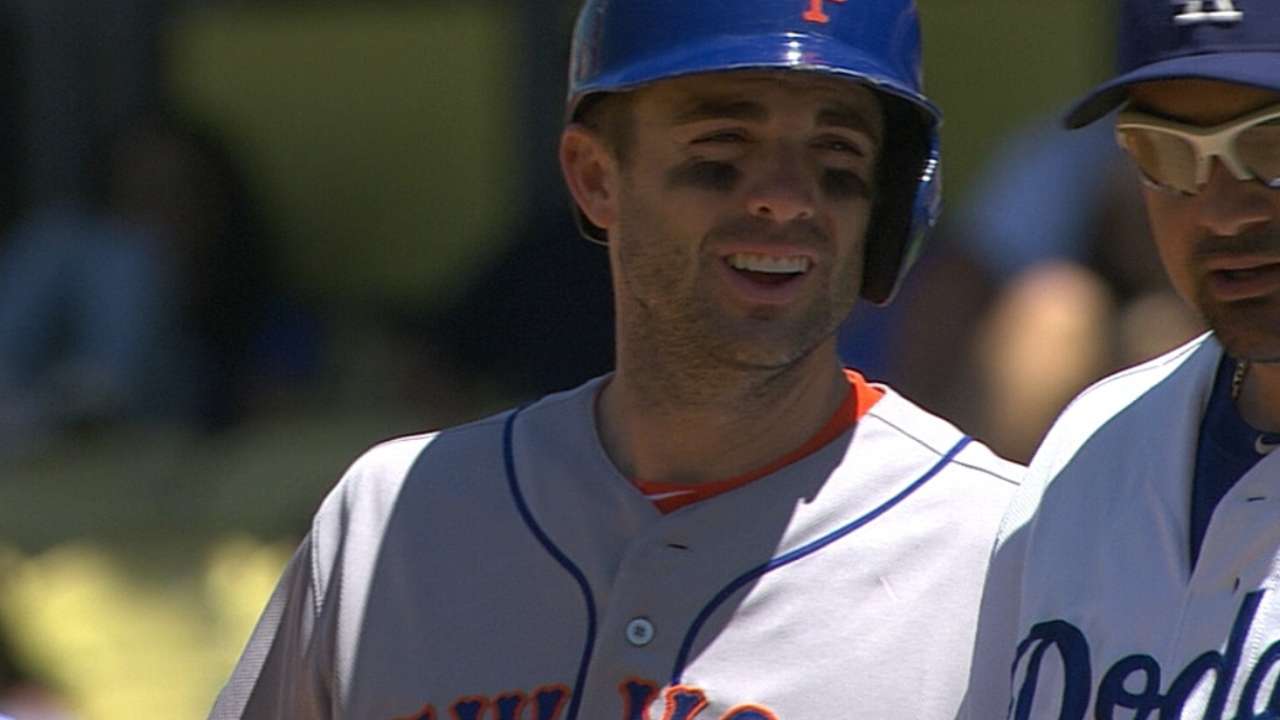 LOS ANGELES -- In the span of about two hours Sunday, the Mets lost two of their lineup's most critical pieces to minor injuries.
Third baseman David Wright left Sunday's win over the Dodgers in the third inning with muscle spasms in the right side of his neck. And second baseman Daniel Murphy departed six innings later due to cramping in his right calf. Both players are day to day, though Wright in particular does not expect to miss any time.
Wright's injury began nagging him earlier this weekend, but became more acute during his first two plate appearances Sunday. Coming into the game mired in one of the deepest slumps of his career, the third baseman snapped a 2-for-22 skid with a single off Dodgers starter Kevin Correia in the top of the third, then scored on Lucas Duda's three-run homer. But he did not return to the field in the bottom of the inning, giving way to Eric Campbell at third base.
"It's been bothering me for a few days, and just got progressively worse and worse," Wright said, noting that he experienced similar neck pain at times last year. "It just got to the point where I couldn't get out there and do the simple things. That's when the decision was made to get me out of there."
Wright also missed time earlier this season with a sore left shoulder that has affected him since June. He and manager Terry Collins both insist on a near-daily basis that the shoulder is healthy, even if it and other nagging injuries have combined to undermine his performance to date. The third baseman entered Sunday's play batting .095 in his last six games, and now has zero extra-base hits in his last 62 plate appearances. He is batting .266 overall with eight home runs in 123 games.
"You like to think that you can make it the whole year without feeling pain, but that's probably not going to be the case," Wright said. "This year has just been frustrating with some of the injuries and some of the bothersome things that have happened. But knock on wood, whether I miss a day or a couple of days, I've been able to get back out there without missing too much time."
Less sure of his status was Murphy, who left Sunday's game in the ninth inning with cramping in his right calf. Though the score of the game made it an easy decision for Collins to remove Murphy from the lineup, Mets trainers advised the second baseman to stay off his feet throughout Monday's off day.
Murphy said he won't know if he'll be able to play Tuesday until he wakes up that morning.
"I really can't tell you how it's going to feel until we get to Tuesday," Murphy said. "I've never done it before, so it's tough for me to gauge."
Anthony DiComo is a reporter for MLB.com. Follow him on Twitter