Colon caps emotional week with gutsy outing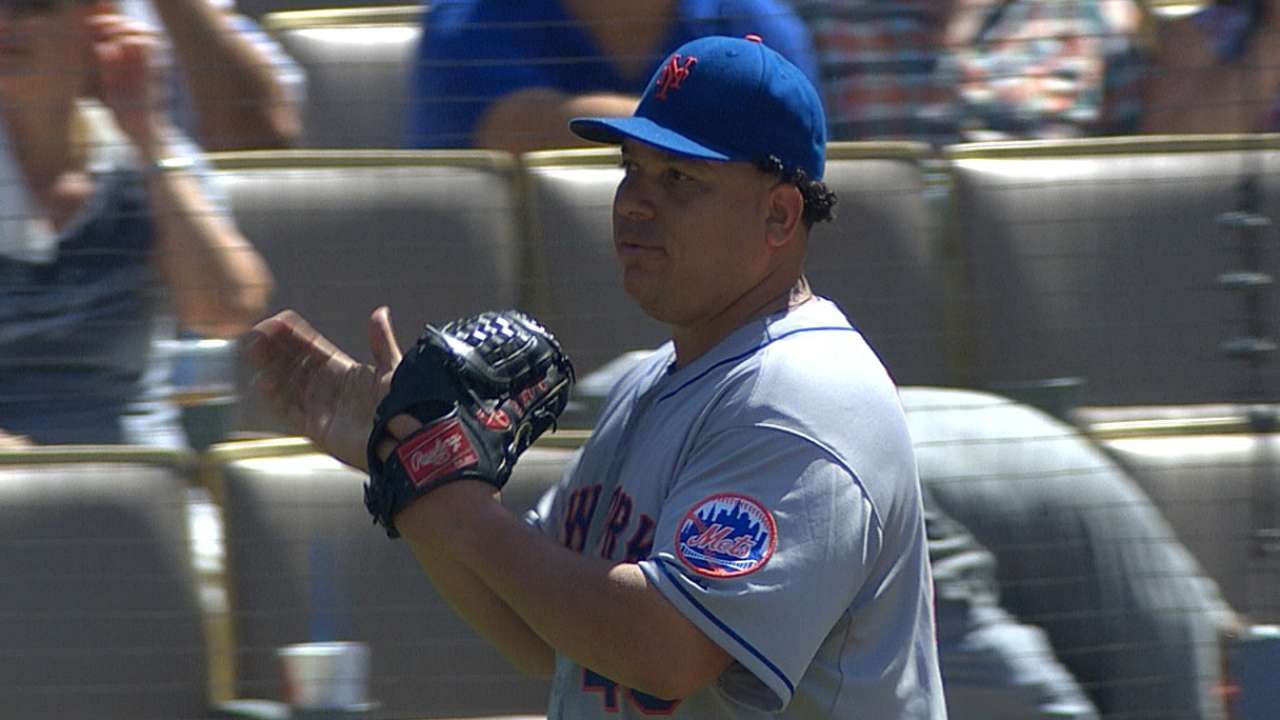 LOS ANGELES -- Skipping Sunday's start was never an option for Bartolo Colon. Though Colon traveled to the Dominican Republic earlier this week to be with his mother, who passed away Tuesday, and though he plans to travel back there for the funeral on Thursday, he was insistent upon making a start in between.
So Colon boarded a plane, flew to Los Angeles, threw six innings of two-run ball against the Dodgers and flew back.
"It impressed me," manager Terry Collins said. "It didn't surprise me. He's had a tough week. He came off the mound in the sixth inning and I think that's the first time in his career he's ever said, 'I'm done.'"
Colon's emotions seemed to melt away once he took the mound. After giving up a stray run in the first inning, the right-hander retired seven in a row and 13 of the next 14 batters he faced, using a triple play to his advantage in the sixth. In what might have been his last start with the Mets -- he is a prime candidate to be dealt before next Sunday's waiver Trade Deadline -- Colon shined.
"I was mentally prepared for the game today," he said through an interpreter. "I was prepared to face that lineup. I was ready to go."
In many ways, Colon's teammates were more impressed with him than he appeared to be with himself. David Wright, for example, called it "nice for him to go out there and get that win," while Lucas Duda noted that the Mets "all try to rally around him and give him as much support as we can."
"Our hearts are with him," second baseman Daniel Murphy said in response to a question about Colon's performance. "He's a teammate and we love him. To go through something like that -- we're going to be sons and fathers and husbands long after we're done with this game. But to answer your question, he threw the ball great."
Anthony DiComo is a reporter for MLB.com. Follow him on Twitter