Murphy's DL stint opens door for Herrera's callup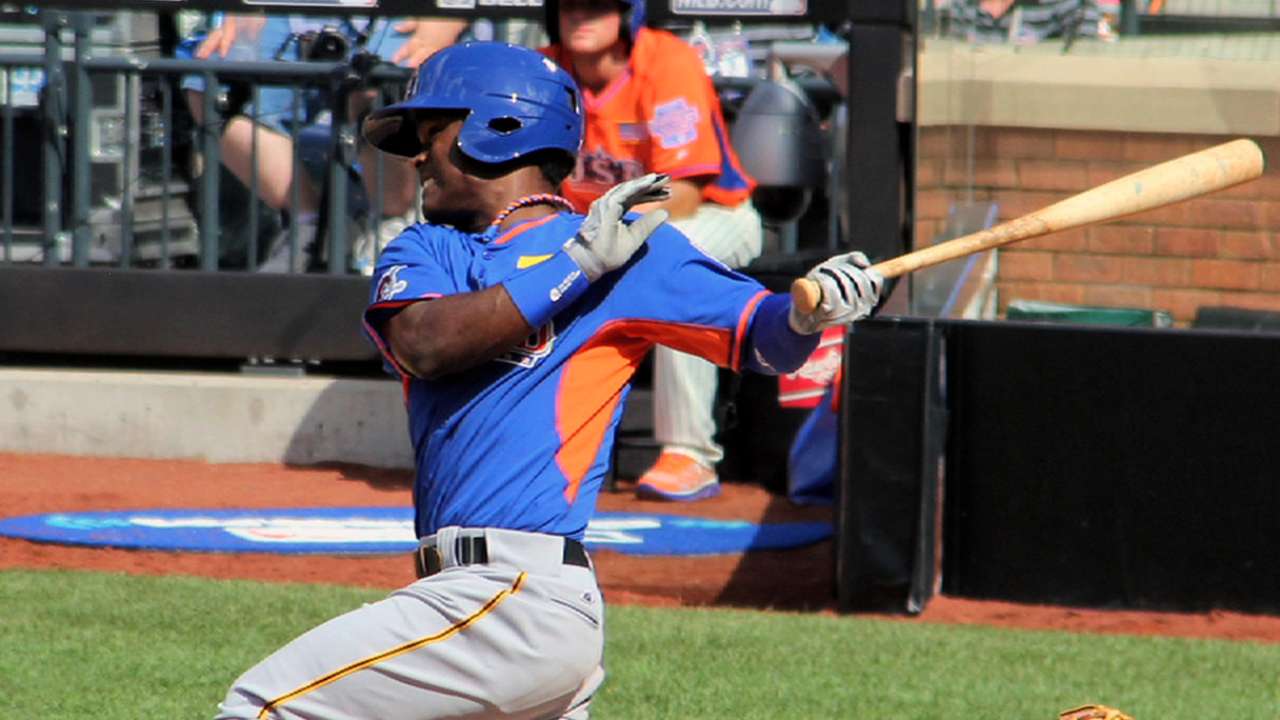 NEW YORK -- The Mets may have lost second baseman Daniel Murphy for the next two weeks, but they're replacing him with one of the organization's most heralded infield prospects.
Dilson Herrera will join the Mets before Friday's series opener against the Phillies, replacing Murphy, who is hitting the 15-day disabled list with a strained right calf. An MRI taken Thursday revealed the strain, forcing Murphy to the DL retroactive to Monday.
"It's frustrating," Murphy said. "I was hoping it wasn't that bad, but it ended up being a little worse than I thought. It's always nice to stay off the DL, but we've got to be smart about it and get healthy, and it's not fair to the rest of the team to make them play shorthanded."
The injury does give the Mets their first look at Herrera, 20, who will jump from Double-A Binghamton straight to the Majors. The Mets' eighth-ranked player on MLB.com's Top 20 Prospects list, Herrera was hitting .333 with nine home runs and nine stolen bases in 60 games for Binghamton, following a midseason promotion from Class A St. Lucie. Along with reliever Vic Black, Herrera was one of two prospects the Mets received in a trade for Marlon Byrd and John Buck last August.
"He's starting to control the strike zone a little more in Binghamton," Mets general manager Sandy Alderson recently said of Herrera. "He's shown surprising power for his size and age. … His athleticism, his body type [allows him to hit for power]. He's aggressive and generates a lot of bat speed."
Capable of playing both middle-infield positions, Herrera spent most of his time at Binghamton at second base. It remains unclear how much playing time he will receive in New York, but if the Mets wanted someone to ride the bench, they could have recalled a player already on the 40-man roster. Instead, they selected the contract of Herrera, who boasts as much upside as any infielder in the organization.
"Usually when you see kids his age getting to this point, the tendency seems to be some guys being more pull hitters than anything else," Binghamton manager Pedro Lopez said in June. "What he does is have plate discipline and an ability to drive the ball the other way. That's what makes him successful."
Anthony DiComo is a reporter for MLB.com. Follow him on Twitter @AnthonyDicomo. Tim Healey is an associate reporter for MLB.com. This story was not subject to the approval of Major League Baseball or its clubs.