Mets helping Lagares steal more bases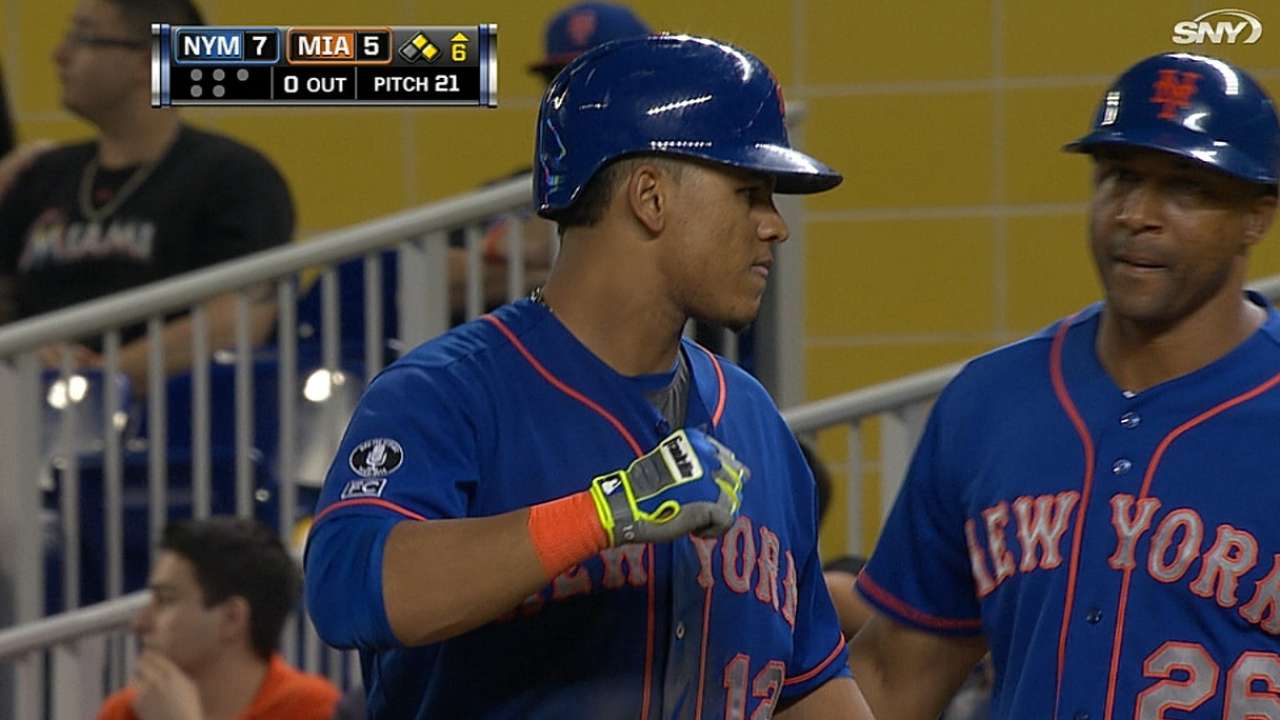 MIAMI -- Juan Lagares aspires to become a legitimate leadoff hitter, and the Mets hope to make him one. With that in mind, the team has recently been encouraging Lagares to steal more bases.
With manager Terry Collins and his staff dictating high-percentage opportunities for Lagares from the bench, the outfielder swiped his fourth and fifth bags in five games in Tuesday's 8-6 win over the Marlins. He had attempted just seven steals in 98 previous games, coming away successful on four of them.
"We're not letting him choose his own spots," Collins said. "We're trying to choose the spots for him where we're anticipating breaking balls, we're anticipating other things that go along with what we think the count will dictate as far as what the pitcher's going to do. I'd like to get his lead a little bigger, but I think his starts are pretty good."
Collins did say that ultimately, Lagares' on-base abilities will far outweigh his stolen base potential when the Mets begin deciding who will lead off for them next summer. But baserunning prowess is a nice bonus, and Collins feels strongly that the Mets merely need to unlock the abilities that their center fielder already possesses.
"I think you can teach a lot of it for basestealers," Collins said. "You can teach the lead and you can teach the start. Can you teach the courage? I don't know. Some guys just don't like to get thrown out. You can't worry about being picked off. But I think Juan's the kind of guy, because of his work ethic and the way he goes about things, he's going to learn it."
As a center fielder, Collins continued, Lagares must be quick with his first step and reach top speed as quickly as possible -- particularly considering the aggressiveness with which he plays the position.
Lagares noted that he shied away from stealing bases earlier this season because his hamstrings were not completely healthy. Now that they are, he is taking more risks.
"It's very important when you can steal bases," said the outfielder, who has hit first in 28 of his 92 starts this season. "That's what it's all about, [batting] leadoff, getting on base, try to steal a base and get in scoring position for the guys behind you to drive in a lot of runs. I think that's very important."
Anthony DiComo is a reporter for MLB.com. Follow him on Twitter @AnthonyDicomo. This story was not subject to the approval of Major League Baseball or its clubs.