Granderson remains upbeat despite tough season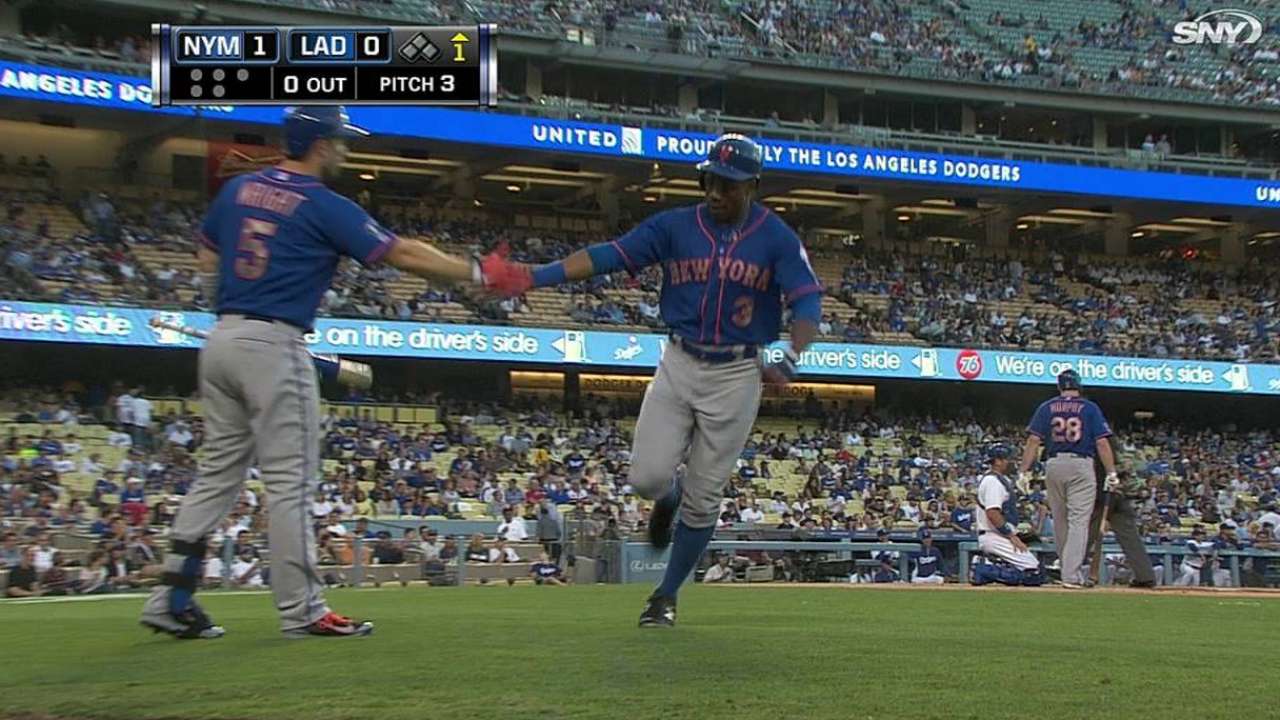 MIAMI -- Curtis Granderson did not spend April slamming his helmet to the ground, just as he did not often beat his chest in June. Lately, he has not taken to snapping any bats in half.
"I've never made a point of breaking my bat," Granderson said laughing. "Then I've got nothing to swing with next time up."
And so Granderson continues down his remarkably even-keeled path, despite one of the most polarized, least productive seasons of his career. With the outfielder mired in an 0-for-18 funk, part of a 22-for-153 (.144) stretch dating back to mid-July, the Mets held him out of Wednesday's lineup for the second time in four games -- both respites coming against right-handed starters. Combined with Thursday's off-day, the rest gave Granderson three days off in a five-day span.
"I think he realizes this is part of the game. That you're going to have times like this, years like this," manager Terry Collins said. "He hasn't had very many."
The odd part of Granderson's season is that he went from freezing in April to torrid in May and June, and back to ice cold since the All-Star break. The combined product -- a .210 average, a .667 OPS and 16 home runs in 566 plate appearances -- is not nearly what the Mets expected from Granderson in the first season of his four-year, $60 million contract.
"But the way he's approached it has been absolutely outstanding," Collins said. "That's why I think there's a huge upside. I think he'll come into Spring Training with a positive attitude and be ready for next year."
Unlike Granderson, Collins offered a few possible explanations for Granderson's poor season -- his adjustment to a new league, for example, or to a more pitcher-friendly home ballpark. But Granderson dismissed both of those, noting that his offensive game has evolved throughout his 15 years in professional baseball.
"My swing has always been something that has been evolving and changing over the course of my career," Granderson said. "I've changed, modified and done different things all the way from the Minor Leagues up until now. So that's definitely nothing that's new for me. It's actually been something that's helped me out. So little minor adjustments can definitely be good things for me, because you get your mind thinking about something else, and then hopefully everything kind of locks in."
At this point, there's little the Mets can do but sit back and hope a more productive player shows up to Spring Training next year. Collins found solace in the fact that Granderson has recently begun driving balls a bit more consistently, despite the lack of statistical proof.
"Maybe he's starting to get a sense for it again," the manager said.
Anthony DiComo is a reporter for MLB.com. Follow him on Twitter @AnthonyDicomo. This story was not subject to the approval of Major League Baseball or its clubs.