Mets look to leave lasting impression in last month
Plenty of individual, team storylines to follow as club wraps up 2014 campaign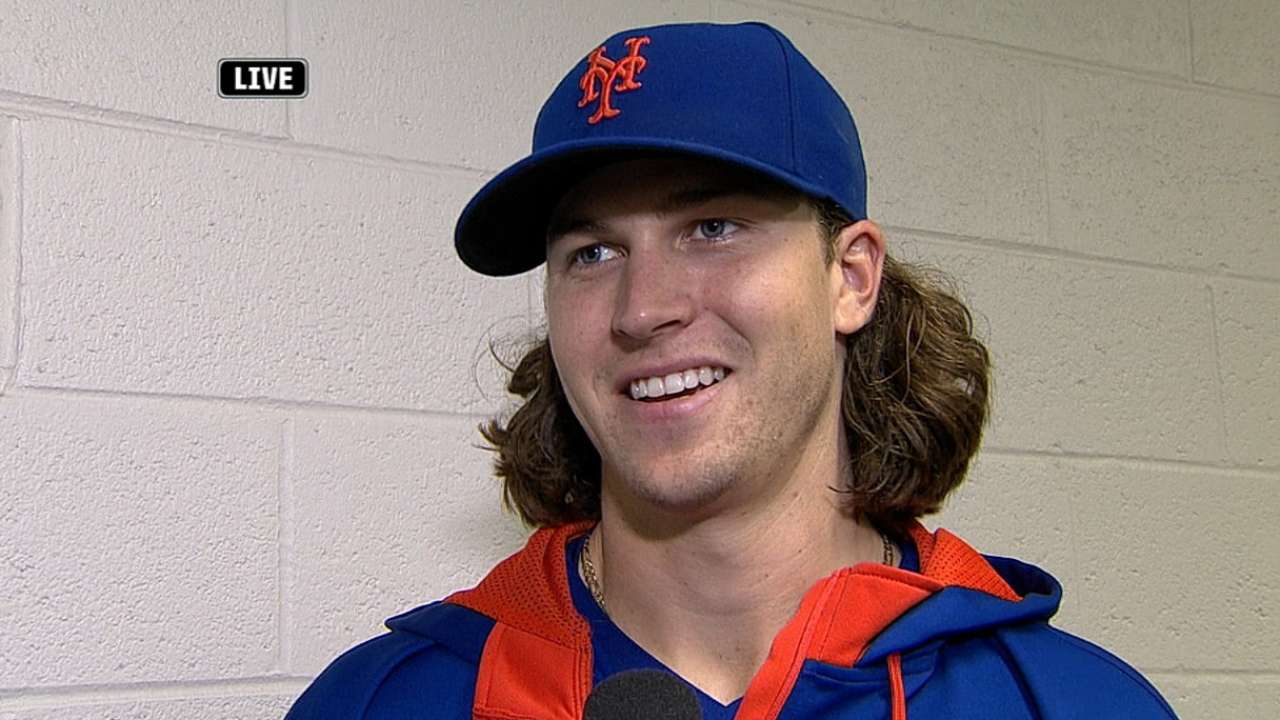 MIAMI -- One hundred and forty Mets games have hit the pages of Howie Rose's books, leaving 22 empty boxes on the schedule. Twenty-two opportunities for players to make their final impressions before winter hits. Twenty-two chances for the Mets to entertain, amuse and -- most importantly -- grow.
With that in mind, here are 22 things to watch over the season's final 22 games:
1. Spoiled rotten: The Mets don't have too many opportunities to play spoiler down the stretch, with 13 of their final 22 games against teams either cruising toward a playoff berth (Nationals) or well out of range (Rockies, Astros). But they can potentially hit the Reds and Marlins with knockout punches, while their Sept. 19-21 series in Atlanta looms largest of all.
2. Dangerous David: David Wright said after Tuesday's win over the Marlins that he feels "dangerous" again. Even if it's just padding a stat line at this point, the Mets would love to see Wright go on one of his vintage tears.
3. Delightful Dilson? At 20 years old, Dilson Herrera is the youngest player in the Majors. That also makes him one of the most exciting and one of the rawest. Herrera could be positioning himself for a prominent role next year.
4. Bye Bye, Burkhardt: Over the past eight years, SNY field reporter Kevin Burkhardt has established himself as one of the industry's best. He's heading to a high-profile national gig with FOX this winter, meaning Mets fans ought to appreciate his work while they can.
5. Thirty for 30: Since 2008, only one player -- Ike Davis -- has given the Mets a 30-homer season. Lucas Duda has a strong chance to join that club, needing four long balls over the season's final three-plus weeks.
6. deGrom for deRookie of deYear: At this point, Reds outfielder Billy Hamilton is probably the favorite for the National League Rookie of the Year Award. But Jacob deGrom is well within striking distance with four starts remaining.
7. And this kid isn't bad, either: Look for Jeurys Familia to nab a few NL ROY Award votes as well. He's been the Mets' best reliever all season, though the team aims to limit his innings down the stretch.
8. Closer to health: This year alone, Jenrry Mejia has battled through a bunion, a right forearm contusion, a blister on his throwing hand, a hernia that will require surgery this autumn, a bout of calf soreness and multiple lower back issues. The Mets consider it important for their first-time closer to finish off the year healthy.
9. Block party: Travis d'Arnaud's offensive punch since the All-Star break has encouraged the Mets. His struggles on defense, including 32 wild pitches allowed and a league-high 12 passed balls, have not. New York is seeking improvement in that area.
10. Hoping for a Grand comeback: With so few impact bats available on the free-agent market this winter, Curtis Granderson represents the Mets' best chance at a quick fix. He'll start in September, looking to overcome one of the coldest streaks of his career.
11. One more year? For Sandy Alderson to return as general manager, the Mets need to pick up the 2015 team option on his contract. There's little doubt that they will, but until they actually put pen to paper, some uncertainty remains.
12. And what about Terry? Like his boss, Terry Collins seems to be in good standing. But a September swoon could increase pressure on the manager heading into the winter.
13. Third time's the charm: More than five months into the season, fans still audibly "ooh" and "ahh" every time Bartolo Colon steps to the plate. He has two hits and 31 strikeouts in 52 at-bats so far. How about a third hit to send Colon's fan club into a frenzy?
14. A September to remember: Zack Wheeler did not pitch a full final month in 2013 amidst concerns over his innings total. But he's essentially restriction-free in what has been a breakout season for the 24-year-old. A strong finish could put him in the Opening Day 2015 conversation.
15. Where there's a Wilmer, there's a way: The Mets' shortstop situation remains just as muddled as it was a year ago. But if Wilmer Flores thrives in September, flashing extra-base-hit power and continued defensive adequacy, he could make the Mets think twice about trading for a shortstop.
16. Who's left in left? More than any other position, the Mets are likely to address left field this winter. That's unlikely to leave roles for both Matt den Dekker and Kirk Nieuwenhuis; those two will jockey for depth chart supremacy down the stretch.
17. Golden future: Juan Lagares leads all center fielders in Defensive Runs Saved, trailing only Atlanta's Jason Heyward amongst players at any position. Whether that translates into NL Gold Glove Award recognition remains to be seen.
18. One more, Rafael: Once Triple-A Las Vegas wraps up its postseason, the Mets hope to give prospect Rafael Montero one last big league start, perhaps even temporarily expanding their rotation to six men to accommodate it.
19. Let the kids pitch: The Mets have already seen Erik Goeddel and Dario Alvarez for the first time out of the bullpen. Those two should receive plenty of chances to establish themselves down the stretch, along with perhaps one or two more callups.
20. Lamar and the bats: Since the Mets dismissed hitting coach Dave Hudgens in May, the team's offensive profile has barely budged. Without improvement, there are no guarantees they will keep Hudgens' replacement, Lamar Johnson, on staff.
21. Runs for you and runs for me: The Mets' better-than-expected run differential has been a conversation point all year. It's at minus-13 now, and the Mets would love to bump it back up above zero before season's end.
22. Seventy-five or bust: The past two years, the Mets have finished 74-88. They're currently on pace to best that, which would represent a symbolic victory heading into the winter.
Anthony DiComo is a reporter for MLB.com. Follow him on Twitter @AnthonyDicomo. This story was not subject to the approval of Major League Baseball or its clubs.